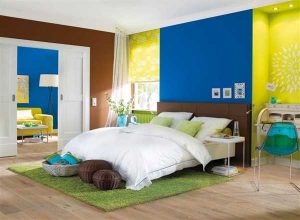 Lime, blue and brown color combination looks fresh and comfortable, spectacular and stylish. Here is a photograph of interior decorating with these room colors that feels balanced and pleasant. Room decor accessories just accentuate bright wall paint color combination, and white bedding emphasizes its fresh feel.
Bright lime, blue and brown color combination creates vibrant interior decorating. Striking lime yellow wall paint and window blinds in lime yellow color look gorgeous with white and light green bedding and floor rug. Beautiful indigo blue wall paint perfectly match a chair, a vase and pillow decoration pattern in light turquoise color, adding soothing and peaceful atmosphere to interior decorating.
Bright indigo blue wall paint is used for bedroom and living room decorating creates a sense of flow, uniting modern interiors into a beautiful home. Chocolate brown wall paint and bed headboard bring warmth and comfort into bedroom decorating. Indigo blue and brown color combination enrich bright interior decorating with a sense of security, tranquility and stability.
Lime, blue and brown color combination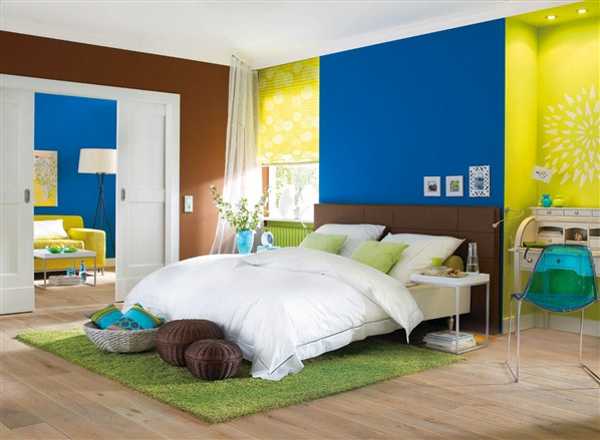 Bold and beautiful lime yellow, indigo blue and brown color combination is a great wall paint and home furnishings choice for bedroom, living room, kids room, family room or hallway interior decorating. Dark saturated cobalt and indigo blue colors, combined with comforting chocolate brown color shades create a very pleasant and trendy color combination that can be attractively used in rooms with windows facing east and south.
When the sun shines, bringing lots of light into the a room, this lime yellow, blue and brown color combination feel cheerful and happy. If a room features a window facing north, you can still use this gorgeous, bright and modern color combination, adding more juicy lime yellow color, which makes interior decorating appear lighter.
Light lime yellow color, applied to a large surface, visually increases it, creating more spacious room and adding warm energy to interior decorating in winter. In sunny rooms this color shade  can be used to add spectacular decorative accents, uniting and organizing interior decorating around this wonderful color.
links
Lime yellow, blue and brown color combination can be soften and enriched by white, beige and all other neutral colors. Natural interior decorating materials and home fabrics, cotton and linen, blend well with room decor accessories in bright lime yellow and light green colors, attracting attention and creating vivid modern interior decorating.
Interior decorating with light green, yellow, blue and brown colors
Room colors used for this interior decorating, wall paint colors and home furnishings: dark brown color Dulux Tribal Dance, rich blue color Tikkurila Clematis K351 and yellow green color Dulux Lime Mousse.

Posted: 27.09.2012 by Decor4all