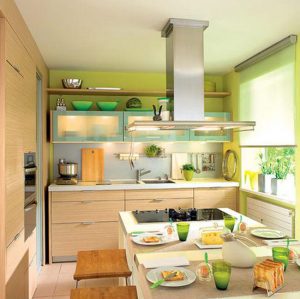 Green paint and small kitchen accessories look wonderful with stainless steel appliances, wooden kitchen cabinets and furniture. Green paint and light window curtain fabric in green color, green tableware and small kitchen accessories are modern kitchen decorating ideas that add a splash of fresh leaf color and freshness to small kitchen interiors.
Light wood furniture and small kitchen accessories in light green color look gorgeous with relaxing light green paint on walls. Small kitchen decorating feels comfortable, more spacious and stylish with contemporary appliances, cabinets, modern furniture and kitchen accessories.
Stainless steel and wood, contemporary plastic and ceramics blend with white colors, offering airy color combination for small kitchen decorating. Space saving, functional and modern kitchen layout, small stove and island with a table create beautiful small kitchen interior that feels breezy and functional.
Small kitchen decorating ideas, green paint and stainless steel appliances
Small kitchen decorating ideas
Contemporary stools with solid wood seats instead of bulky dining chairs create even more space. Smart lighting design with built-in halogen lamps bring additional comfort and offer convenient and beautiful kitchen decorating ideas. Lighting, which is built-in kitchen stove hood makes cooking a pleasure.
Modern kitchen accessories for spice storage
Contemporary cabinets, shelves and built-in appliances are space saving kitchen decorating ideas that provide more storage for dishes, small kitchen appliances and utensils.
Yellow and turquoise colors for small kitchen decorating
Green paint and kitchen accessories
Light weight glass shelves and cabinet doors in light green color look organic with wooden furniture and nature inspired fresh green paint, small indoor plants and plates.
A stylish combination of shiny stainless steel and matte surfaces of small kitchen appliances, classy black colors and warm wood kitchen cabinets and furniture create wonderful contrasts with green color and make small kitchen interior feel bright and luxurious, comfortable and welcoming.
Light kitchen curtain, white countertop and contemporary stainless steel appliances and utensils increase the effect, bringing more natural light into modern kitchen decor and create spacious and beautiful small kitchen interior.
Green paint for room decorating
Bedroom decorating ideas, green paint and walpaper
Pink and green color combination for decorating
Posted: 03.12.2011 by Decor4all