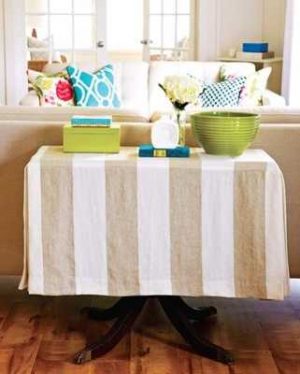 Modern home decor ideas and tips from designer Samantha Pynn include selecting stylish home patterns and colors. She suggests to brighten up neutral or lacking any interest room decor with playful graphics and layers of lively color. Chatelaine design panellist Samantha Pynn shares her best advice for simple and effective modern home decorating.
After waving a happy goodbye to a drab, rundown kitchen and living room, you can remove the dated floor and install contemporary flooring, Pine inspiring flooring is vinyl, scratch-free and a snap to install flooring idea.
Sleek appliances, simple furniture and lots of pattern and color are the elements of creating spacious, interesting and modern home interiors, says the designer.
Blue color and modern home decor ideas from Tricia Guild
15 modern ideas for summer decorating, cheap home decorations
Modern home decor ideas from Samantha Pynn
Rich blue cabinet and white dining furniture, bold dining room decorating
Wide striped fabric in white and beige colors, bright green decorative accessories
Bold navy, bright yellow and kelly greencolor shades give the once dark and dreary living space a modern look and cheerful feel. A tiny marble counter in the kitchen made the interior appear fresh and sophisticated.
Old dining table with a neutral tablecloth or a custom slipcover made of beautiful wide-striped fabric is a creative way to incorporate old furniture pieces while creating modern home decor. The dining table can be dressed up by adding a collection of decorative bowls, vases or books that match the room color scheme.
Simple living room furniture with colorful pillows
A minimal, modern table beautifully complements vintage country chairs. Trendy striped fabric and a coat of paint give older chairs a fresh but classic look.
links
Take advantage of blank walls to create attractive storage solutions. Add a few wooden hooks to design a handy place for coats or towels. Or install shallow shelves in an old milk door between the wall studs, adding a perfect storage for small everyday necessities.
Small kitchen storage with shelves and bright yellow kitchen accessories
Posted: 26.08.2012 by Decor4all