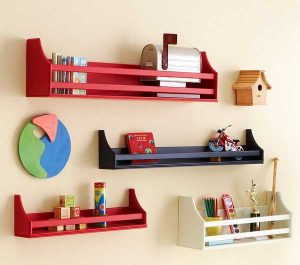 Kids rooms are private multifunctional spaces where children play, study, sleep and daydream. Functional modern kids room decorating ideas create stimulating and pleasant atmosphere in their rooms that feel comfortable and cozy. Kids decor accessories that are functional and healthy are an important part of pleasant children bedroom design.
There are so many bright kids decor accessories available on the market. The choice can be difficult. The main thing is that kids decor accessories should be not only colorful, attractive and playful, by also practical, functional and stimulating children to learn and discover. Kids room decorating ideas that include stylish and functional decor accessories are ideal.
Useless kids room decor accessories clutter their rooms, while functional items encourage to learn and develop their imagination. Practical home accessories that are easy to clean help keep kids room decorating ideas look fresh and create healthy environment for children to grow.
Modern kids decorating ideas
Creative storage ideas for kids room decorating, diy kids decor accessories
Replace toys once in a while, storing some toys away from kids. It make kids room decorating ideas appear different, fresh and interesting for children, keeping them busy exploring their own toys they forgot they have.
10 functional kids decor accessories that add functionality
1. Storage baskets and containers, toys boxes and storage furniture for toys and clothes teach kids to keep their rooms in order.
2. Attractive and safe sport equipment and mini gym designs are great kids room decorating ideas, that improve health and keep children active.
Children height measure, baby room decor ideas
3. A small table with storage containers for pencils and markers provide comfortable storage and encourage children to draw and design. Blackboard paint and washable wall designs are excellent kids room decorating ideas also.
4. Hanging soft toys and comfortable blanket with colorful designs make baby room decor interesting and stimulating. Colorful toys, organized on wall shelves, are functional decorations for kids rooms.
Decorative bird house theme and kids room ideas
Nautical decorating ideas for kids rooms from Pottery Barn
African decorating ideas for kids rooms, 3 interior color schemes
5. Shelves or convenient storage containers for books and learning computer games are functional kids room decorating ideas also. These containers and shelves are available in various colors and can easily match your children bedroom decor.
6. Floor cushions and toy pillows are playful and functional decor accessories for interesting and inviting kids room decorating. Handmade of designer pillows give big personality to children bedroom, creating unique living space for your kid.
Colorful wall shelves for children bedroom
7.  Kids wall clocks are wonderful home accessories for decorating your children bedroom.
8. Children height measure designs add playful accents and fun to kids room decorating, bringing charming characters and pleasant images that beautify kids rooms and make them functional and interesting.
9. Window curtains are simple and easy kids room decorating ideas that add comfort to interior design and enrich children bedroom decor with gorgeous patterns.
10. Lamp shades are very important functional decor accessories. Dark lamp shades provide better protection for kids eyes from bright light and add rich color splash to kids room decorating.
Posted: 11.09.2012 by Decor4all