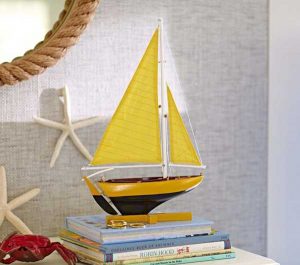 Nautical decor is about the ocean. Nautical decorating ideas for kids rooms bring bright white-blue and red color palette, natural decorating materials with energetic stripes and ocean inspired fabric patterns, beach decor accessories, nautical themed storage and playful furniture design that are exciting and colorful.
Fun nautical themed kids furniture, like a rowboat bed or surf-shack inspired fort bed, look gorgeous and interesting, offering great decorating ideas for kids rooms. Bed headboard accents like whitewashed wood add bright decorating color and optimism to nautical decor ideas.
A sail canopy can be a creative alternative for a headboard. Replacing the pulls on nightstands and dressers with nautical hardware — anchors, knots, starfish and beach glass are attractive options for romantic kids rooms decorating with nautical theme.
Nautical bedroom decor, bright colors, fun decorating ideas for kids rooms
Paper boat dinnerware sets, nautical theme party table decoration ideas
Nautical decor ideas for kids rooms
Anchor wall decorations, nautical decor for kids rooms
Nautical decor and furniture
Nautical decorating ideas for kids rooms are about the beach, boats, waves and seaside themes. Whimsical, colorful and creative nautical decor accessories dramatically transform bedrooms. Infusing nautical accents like thick ropes, coral, sand and seashells that were picked up on a vacation can be put on display in glass jars and vases. Ship models, old oars, porthole mirrors, anchor decorations, ocean maps and rope baskets are great for a more sophisticated seaside look.
One of the most important functional elements of kids rooms decorating is adequate storage for toys, books and knickknacks. The nautical theme can be highlighted with heavy-duty canvas boxes, woven baskets and painted wood crates, perfect for convenient and stylish storage. Buckets are great for corralling little toys also.
Yellow sail boat decoration for nautical decor in kids rooms
Nautical decorating color palette
Traditional nautical decorating color palette includes navy blue, red and white colors. The bright color combination creates a crisp, nautical themed, energizing and attractive look. For a modern spin on bright decorating ideas for kids rooms, you can pair classic nautical decor color shades with other bright colors or add cozy brown and elegant black color tones.
Nautical decor, Candle Sail Set for nautical theme party table decoration
Contemporary kitchen design inspired by nautical theme
Sunny yellow, orange color tones, aqua blue, deep turquoise and green color shades are beautiful complimenting decorating colors that will freshen up the classic nautical decor, create bold contemporary kids rooms decorating color combinations and provide another burst of cheerful or relaxing color.
Heavy canvas storage bags for kids rooms decorating with nautical theme
Stripes and ocean inspired fabric patterns
Nothing says nautical decor like blue-and-white cabana stripes. A duvet cover, decorative pillows, rug, curtains or even a pendant light and table lamp shades with bold stripes look great in a nautical themed bedroom for kids. Rugby stripes look fantastic on the ceiling when paired with solid walls. A dramatic focal wall with stripes look adventurous and contemporary, offering striking nautical decorating ideas for kids rooms.
Posted: 21.08.2012 by Decor4all