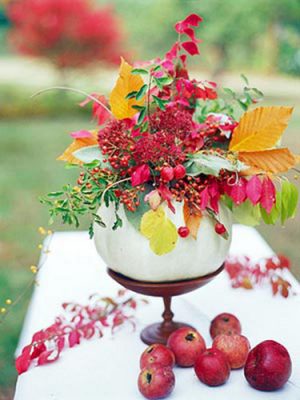 Fall holiday decorations, squash, gourd and pumpkin floral arrangements, look gorgeous and creative, adding beautiful green, warm yellow, red and orange colors to table decor and bringing the nature into kitchens and dining rooms. Gourd or pumpkin floral arrangements, decorated with fall leaves and apples, make wonderful and festive holiday decorations for Halloween and Thanksgiving, special occasions and everyday table decoration.
Making vases from gourds or pumpkins for floral arrangements is a creative activity. You can select a small or large gourd or pumpkin in various shapes, and then use a vase as a single table centerpiece or group small vases in beautiful floral arrangements for your fall table decorating in the kitchen and dining room. Blooming in fall flowers and colorful leaves create attractive color combination with a gourd or pumpkin vase and apples, adding relaxing and fresh green colors and optimistic fall ideas to your holiday decorations in warm orange colors.
Pay homage to the bright beauty of fall with creative and natural holiday decorations, squash, gourd or pumpkin floral arrangements, making sculptured vases, decorated with a carved leaf, tree branch, berry, bird or flower pattern. Attractive squashes and pumpkin floral arrangements are versatile table decorating ideas, that are great for Halloween and birthday party or Thanksgiving table decoration.
Floral arrangements for fall table decoration
Yellow flower arrangements for table decoration
Beautiful floral arrangements with yellow flowers
Unusual flower arrangements, craft ideas
Making floral arrangements with a gourd or pumpkin vase and fall flowers
1. Squashes, gourds or pumpkins with flat bottoms make the most stable vases for floral arrangements and safe containers for apples, offering convenient table decorating ideas for fall.
2. If your prefer orange color for fall flower arrangement, select pumpkin with a flat bottom and beautiful flowers in white, purple, warm yellow, red and orange color shades. You can choose an unusually shaped gourd in white cream and green colors with flat bottom and not too narrow neck for your natural vase to add more interest to fall table decorating with flowers.
3. Cut out the top with a sharp knife, and scoop away the pulp with a spoon. Squash, gourd and pumpkin floral arrangements will look more interesting, if you make angled, wavy, irregular or zig-zag cut and create unique floral arrangements with fall leaves and fresh flowers in bright contrasting colors. You can make few large holes for fall flowers or design beautiful carving pattern and place a glass vase inside for fresh flowers.
4. You can waterproof your vase, but squash, gourd and pumpkin skin will naturally remain watertight for about a week. You can paint your vase, carve an attractive pattern or decorate with beads, ribbons, bird feathers or buttons.
Gourd and pumpkin floral arrangements and fall table decorating ideas
5.  Fill the vase with water and your favorite fresh cut flowers in striking white or purple, warm yellow, red and orange colors, making a very personal, bright and unique fall table decoration.
6. A group of different sized gourds or pumpkins made into vases for fall flower arrangements will add a stronger visual impact to a fireplace mantel or side table, coffee table or dining table decorating ideas.
Halloween and Thanksgiving decorations
Halloween decorating with pumpkins
Decorating ideas for fall, Thanksgiving and Halloween
Squashes, gourds and pumpkins are ideal for making gorgeous natural vases and eye-catching floral arrangements for beautiful table decorating in fall. Eco friendly holiday decorations are perfect for annual harvest festivals, colorful autumn displays, striking Halloween or Thanksgiving table decorating and adding a personal touch to family special events.
In the Mediterranean and tropic countries, dried hollow gourds have long been used to hold water and store food, keeping it fresh and cool. Edible and ornamental squashes, gourds and pumpkins can be transform into unusual vases for fall floral arrangements, that add colorful and bright, white, purple, warm yellow, red and orange color shades to holiday decorations and create charming eco friendly fall table decorating.
Table decorating ideas for fall
Fall holiday decorations,Thanksgiving table decorating ideas
Table decoration ideas, fal decorating with black and orange colors
Posted: 31.10.2011 by Decor4all