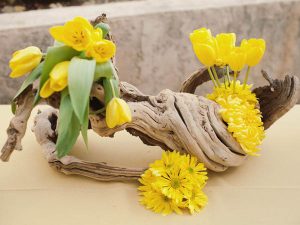 Yellow color feels warm and welcoming. Yellow flower brings sunshine and joy. Fresh and dried flower arrangements in yellow color are excellent for table decoration and offer wonderful craft ideas for creating beautiful and inviting centerpieces for holidays, special occasions or everyday attractive and festive look.
Yellow floral arrangements are about warmth and sunny atmosphere. Fresh or dried flower arrangements in yellow color are simple craft ideas for kids and adults that help people relax and feel cosy. Combined with beach pebbles or small rocks, fruits or nuts, yellow flower creates stunning floral arrangements for impressive and elegant table decoration.
Yellow roses are classy elements for festive floral arrangements. Yellow tulips, daffodils (narcissus,) birds of paradise, lilies, Costa goldfields, golden bells, gerberas, golden wattle flowers, irises, pansies, orchids, sunflowers, poppy, marigolds, celandine and mar flowers and early star-of- Bethlehem flowers create lovely flower centerpieces, adding bright and cheerful golden yellow color to table decoration ideas.
Polka dot and flowers, centerpiece ideas for table decoration
Unusual flower arrangements, wall decoration, craft ideas
Table decoration ideas, white flowers
Symbolism of the color yellow
Table flower arrangements in yellow color symbolize hope and happiness, warmth and coziness, creating friendly atmosphere and eye catching table decor. Although yellow color has conflicting symbolism and various meanings in different cultures, rich yellow flower color is associated with the sun, light, warmth and invitation everywhere in the world.
Yellow flower arrangement denotes happiness and joy, but sometimes yellow color is associated with cowardice, deceit and jealousy. Yellow ribbons were worn as a sign of hope as women waited from their men to come home alive from wars. Yellow ribbons can be added to table flower arrangements to welcome home loved ones.
Yellow color is for mourning in Egypt.  Actors of the Middle Ages wore yellow to signify the dead. In Japan yellow color represents courage. Yellow color is symbolizes merchants and peace in India. Yellow flowers can be used for creating meaningful floral arrangements or for cheerful craft ideas and bright table decoration.
Table flower arrangements in yellow color
Using yellow flowers for making flower arrangements and table centerpieces
Yellow flowers can be used for primary color, and also yellow color works well with other colors, like green, blue, purple, orange, red and brown. Yellow color used for table decoration ideas creates excitement. Yellow table flower arrangements are perfect, when red or orange feel too strong.
Yellow centerpiece with flowers suggest freshness and look harmonious with citrus fruits, adding charm and citrus fruitiness to flower centerpieces and table decor.
Yellow flower bouquets
Yellow flower bouquets look especially dramatic, grabbing attention and creating sunny table decor for holidays, special occasions or great weekends. The combination of different yellow flowers, types and sizes in a bouquet brings various textures and lighter or darker golden color shades into home interiors, creating beautiful floral centerpiece for table decoration.
For those who like yellow color florists suggest to find creative ideas for making lush bouquets. The size and height of yellow flowers is not so important. The main thing is that the yellow flower arrangement includes flowers that look like the sun.
Eco craft ideas for kids and adults
 Decorating with juju hats, modern wall decor ideas
Feathers and heats dinner table decorations in black and turquoise colors
Beach pebble table decoration in white and turquoise colors
Yellow flowers are perfect for making artificial, fresh and dried flower arrangements, creating comfortable bouquets and eco friendly table decoration for modern homes. Creative flower arrangement designs that combine yellow flowers with modern bird feathers, tree branches, green leaves, fruits, moss, bamboo, sea shells, drift wood and rocks offer simple, inexpensive and eco friendly craft ideas for kids and adults to make home interiors and table decoration more welcoming and brighter.
Posted: 16.09.2011 by Decor4all