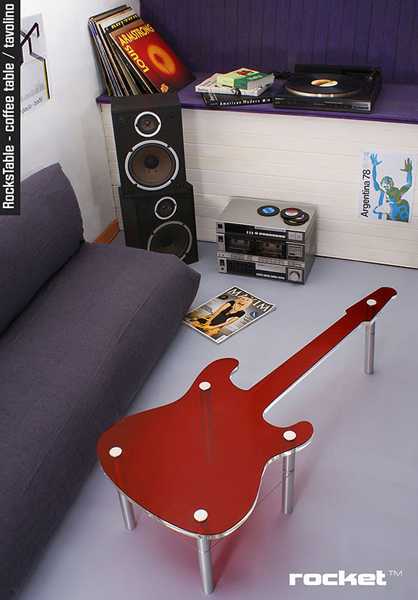 Room decor in rock-n-roll style is perfect for teenage bedroom or small apartment decorating for a rock-n-roll music fan. Rock-n-roll decorating theme is colorful and playful, giving room decor a strong personality and creating positive and cheerful atmosphere. Teenage bedroom decor in rock-n-roll style will be appreciated by teens and their friends. Rock-n-roll room decorating for adults look very expressive and interesting also.
Rock-n-roll interior decor style uses extraordinary color shades and eye-catching designs, music and fun inspired decoration patterns and distinctive images that create very personal and interesting room decorating ideas. Here is a collection of room decorating ideas that are beautiful and inspiring. You can adjust them for teenage bedroom and create wonderful room decor for your kids.
Rock-n-roll style is joyful and easy to create with bold decorative accents, bright colors and unusual furniture. This impressive and colorful decor style allows people to design fantastic rooms. Inspired by rock-n-roll lifestyle, young adults enjoy bringing music themes into their bedroom decor and enjoy youthful and romantic environment.
Rock-n-roll music theme for room decorating
Guitar wall shelf in orange color, music theme and rock-n-roll style
Rock-n-roll room decorating color combinations
Bright red, expressive deep purple, black or dark gray, glamorous pink, electric blue and bold orange colors look gorgeous and exciting with neutral background that light walls create. Contrasting color combinations create drama and give a festive look to room decorating in rock-n-roll style.
Rock-n-roll room decor accessories
Unusual bedding designs, wall and furniture decoration patterns, that support the rock-n-roll music theme, are excellent for bedroom decorating. Music instruments, like a drum kit or guitar with its amplifier, a stereo system and old records collection are great room decor accessories that support these noisy and expressive decorating theme and style.
Creative wall decoration and rack for hats and cloths, room decorating in rock-n-roll style
Framed records of CDs, framed posters of rock idols, their artworks create an impressive visual effect, dramatically changing room decorating. These accents naturally emphasize the music theme and rock-n-roll decor style. There are lots of decorative items in rock-n-roll style, which enhance room decor in rock-n-roll style. A zebra striped or leopard skin rugs, a Union Jack flag on a wall, a hanging guitar, or even the figurine toys enrich room decorating, celebrating the rock-n-roll style.
Graceful music themed party table decoration ideas
AMG Viella 12 record player, retro decor item for modern room decorating
Rock-n-roll lighting fixtures
Colorful lighting fixtures help change your room appearance, infusing the rock-n-roll decorating theme and excitement into interior design. Green-yellow and blue, deep purple and red lights create a disco like atmosphere of the glamorous rock-n-roll style, while creating cozy and stylish room decor to enjoy and admire.
Posted: 18.09.2012 by Decor4all