Simple glass painting designs encourage to explore fabulous craft ideas, unleash creativity, make impressive room decor items and gifts. Glass painting adds charming details to simple objects, like plates, table glasses and vases. Colorless glass tableware items, decorated with paint, help create beautiful table decoration and unique gifts for holidays and birthdays.
Glass painting patterns can be simple or complicated, made with pastel or bright glass paint colors. Floral or geometric, striped or abstract glass painting designs can transform gifts for special occasions or holidays into striking masterpieces, and create very personal and attractive home or table decoration.
There is nothing particularly difficult in leaning glass painting techniques. Starting with simple glass painting design ideas and staying patient are all you need for leaning this great craft. Dots or stripes are not complicated vase, plate or wine glass painting design ideas, and can be your first diy projects.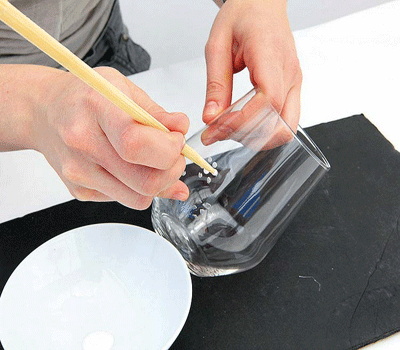 Consider a cheap small bowl, a vase, a plate or a wine glass that have very simple shapes. Square in shape glass vases and glass plates with flat surfaces are excellent making your first table decorations and gifts and painting on glass training.
Select simple glass painting patterns, like dots, stripes or abstract designs and one or two glass paint colors. Next time you will choose more complicated painting designs for larger bowls or vases and start to explore different glass painting techniques and work with different paint colors.
You will learn how to work with different glass paints (paste, liquid or spray) and create tiny details and stunning glass painting designs on vases, wine glasses, lamp shades, plates and goblets.
The craft of painting on glass offers various charming ideas for your table decoration projects. Patience and practicing help transform your hobby into a creative way to prepare special gifts or make unique table decorations and give your dining room a stylish new look. (Modern dining chair covers for fresh room decor)
Developing unique glass painting designs is an interesting and creative activity that utilize your free time and add joy to your life. You can make unique art pieces, using various glass painting techniques and working with many colors. (Painting beautiful wallpapers, romantic vintage wallpaper patterns)
Glass painting is a wonderful craft that is popular in many countries. People enjoy painting flowers, birds, fish, cats and dogs, creating personalized gifts, home decorations and table centerpieces. (Christmas table decoration ideas, silver table centerpieces)
Glass painting is great for decorating round and square in shape vases, creating framed wall art that add interest and unique flavor to room decor. ( 10 modern and simple wall decoration ideas with fabric) Simple glass plate, vase or wine glass painting techniques allow to experiment with fabulous craft ideas for making unique table centerpieces.
Inexpensive craft ideas and simple glass painting techniques save money on table decoration, (Table decorations, charming table decoration with fabric) add more beauty and elegance to modern homes, and create personalized gifts for celebrating holidays or special occasions in style.
Fabric craft ideas
Creative and modern furniture decoration with fabric for quick makeover
Kitchen curtains, window treatments ideas
Posted: 01.09.2013 by Decor4all