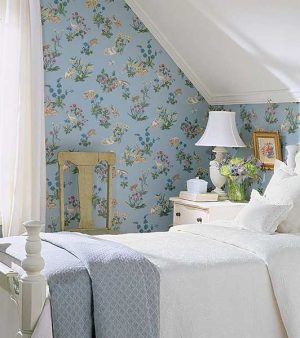 Modern bedroom ideas reflect an old days technique of decorating walls with beautiful fabrics and intricate patterns. Modern wallpaper patterns, combined with matching or complimenting curtain fabrics offer stunning bedroom ideas that bring luxurious and elegant classic style into modern interiors.
Modern wallpaper patterns with floral designs and green leaf patterns look especially attractive and pleasant, show perfect bedroom decorating ideas to people with eco friendly mind set and for those who appreciate a gorgeous mix of luxurious fabrics, classy furniture and beautiful wallpapers for modern bedroom.
Blending modern wallpaper that match bedding and window curtain fabrics with furniture in classic style is a brilliant bedroom decorating idea that help design luxurious, peaceful, comfortable retreats with charming bedroom decor.
Modern bedroom colors, beautiful wallpapers and furnishings in classic style
Modern bedroom decorating ideas, beautiful wallpaper in golden colors and elegant bedroom furniture in classic style
Here is a collection of bedroom decorating ideas that include beautiful wallpapers and home decorating fabrics with stylish patterns and show trendy colors and furniture in classic style, perfect for designing modern interiors with exclusive chic.
Modern bedroom colors include blue and green color shades, golden colors and soft pink tones, filling bedroom decor with harmony and tranquility. Classy white decorating ideas and color combinations of white and other pastel colors make bedroom decor feel relaxing and fresh.
Modern wallpaper with floral pattern, antique bed and charming bedding, bedroom decorating ideas in classic style
Elegant bedroom decorating ideas enrich your home with an aristocratic touch, offering beautiful and calming private spaces for rest and rejuvenation. Some of these beautiful wallpapers are available from Thibaut, an American company, and bedroom furniture collections are designed in Italy.
Bedroom wallpaper in soft colors for accent walls
Bedroom decorating ideas, green paint and beautiful wallpapers
Bedroom wallpaper in black, white and gray, one wall decoration
Posted: 08.09.2012 by Decor4all