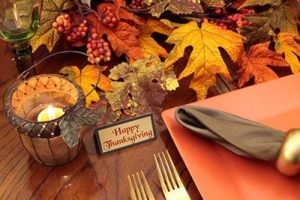 Thanksgiving decorating ideas that turn napkins into beautiful individual table centerpieces create amazing party table decor, bringing fall decorating colors and designs into your home. Charming individual table centerpieces are part of the fun of any holiday season, but thanksgiving decorating gives a wonderful opportunity to enjoy simple and elegant party decorations made with fall leaves, berries, pumpkins and fall flowers.
Thanksgiving decorating uses the basic methods of party table decoration, but there are opportunities to express a little something special in a completely new look, using fall leaves, berries and vegetables with fresh flowers that bloom in fall.
Thanksgiving decorating ideas that create amazing individual table centerpieces with napkins add a decorative touch to an already elegant table decor, and make it more inviting and personal. Shaped napkins can be used as a dinner or dessert plate decorations. Combined with leaves made of paper, small fruits or vegetables, they look fantastic.
Individual table centerpieces with napkins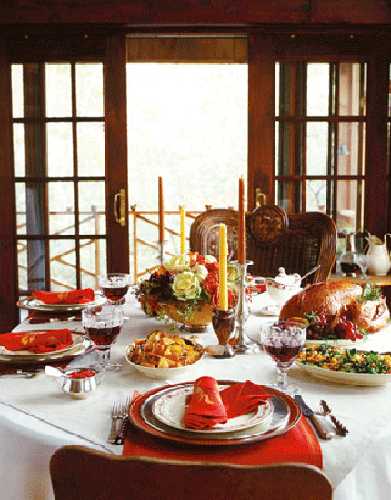 Individual table centerpieces can be carefully placed to design your large table centerpieces and decorations. Once they are moved to each dinner guest's setting, plenty of room opens up for delicious Thanksgiving food.
Selecting napkins colors
Thanksgiving decorating ideas call for neutral color palette or gorgeous fall leaves colors. If you want to reuse the napkins for another holiday season, then select a neutral color and add other colors with fresh fall flowers, fruits, vegetables and berries for festive and bright Thanksgiving table decor. Napkins in neutral color shades blend easily with all holiday decorating color schemes.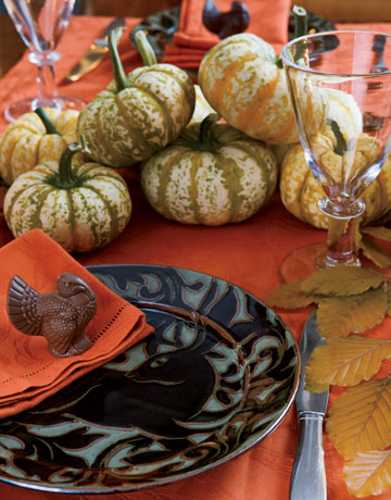 Decoration patterns
Decoration patterns are an important part of creating elegant Thanksgiving decorating. If your tablecloth is busy, select napkins with simple patterns and designs in one color. Fall leaves embroidery or made of paper leaves and pumpkins are excellent for elegantly themed individual table centerpieces. If your tablecloth is simple and one color, then select bold and exciting decoration patterns for your napkins to spruce up your Thanksgiving decorating ideas and add more interest to party table decor.
Maple leaves centerpiece ideas, fall crafts for Thanksgiving table decorating
20 affordable floral table centerpieces for Thanksgiving decorating
Fall holiday decorations, warm Thanksgiving table decoration
Decorative fabrics
If you want to reuse your tablecloth and napkins, select classy sets in neutral color shades. Choose tablecloth and napkins fabric that is easy to clean and maybe not too expensive. Cotton tablecloth and napkins sets or cotton blends fabrics are perfect for simple and informal Thanksgiving decorating. Linen tablecloth and napkins sets are more elegant.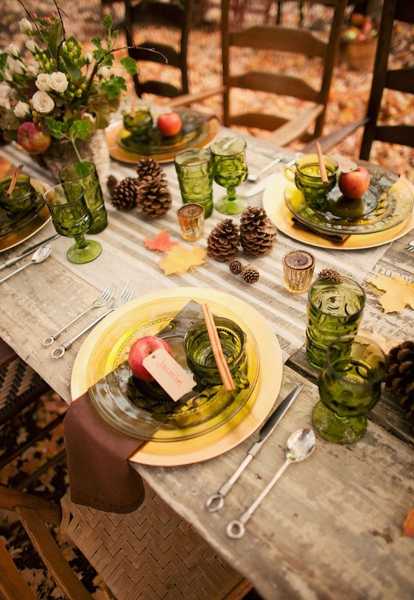 Napkin rings
Napkin rings can add unique flair to Thanksgiving decorating and simple individual table centerpieces. The sheer variety of available napkin rings is staggering, and they are small details that add charming touches to Thanksgiving table decor.

Posted: 16.11.2012 by Decor4all