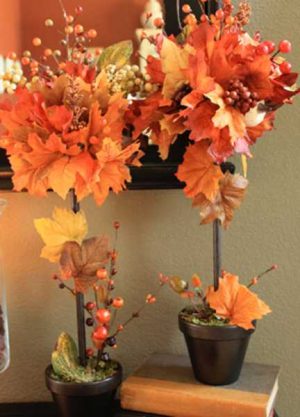 Handmade fall decorations created with colorful leaves look stunning and natural. Fall leaves tree is a beautiful craft idea found on Decorchick blog, offering attractive and inexpensive fall decor items. Fall leaves and simplicity of this design are blend into a bright and colorful table centerpiece, perfect for elegant Thanksgiving decorating.
Handmade table centerpieces, door wreath and chandelier garlands are easy to make with autumn leaves, branches, pine cones, acorns and twigs. Handmade decorations are cheap and very personal, adding an artistic touch to unique Thanksgiving decorating ideas.
Handmade Thanksgiving table centerpieces add warmth to the special celebration and create charming atmosphere, enhancing the spirit of thanksgiving with elegant, nature inspired fall decorations. Colorful leaves are an excellent material for fall crafts and creating organic and comfortable home decorations.
Fall decorating ideas, Thanksgiving yard decorations
Fall holiday decorations, warm Thanksgiving table decoration
DIY fall decorations and Thanksgiving table centerpieces with autumn leaves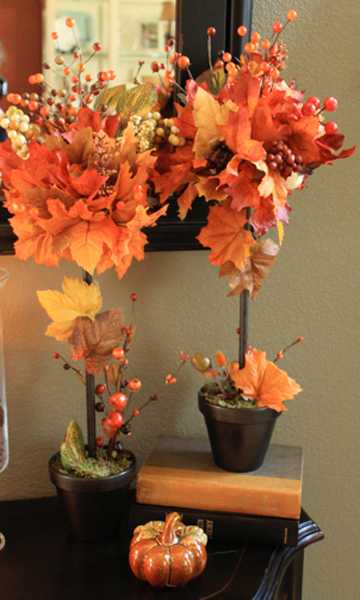 If you like walking in the park or hiking in the forest in fall, making fall crafts and cheap home decorations of leaves for Thanksgiving is the right choice for you. This fall craft project combines the pleasant walk for gathering autumn leaves with creative design to spruce up your Thanksgiving decorating ideas.
Autumn leaves are great for creating stunning Thanksgiving table centerpieces for the home, bringing the nature inside and decorating your home with original designs. Fall leaves tree project is a wonderful way to add a gorgeous handmade table centerpiece to your fall holiday decorations.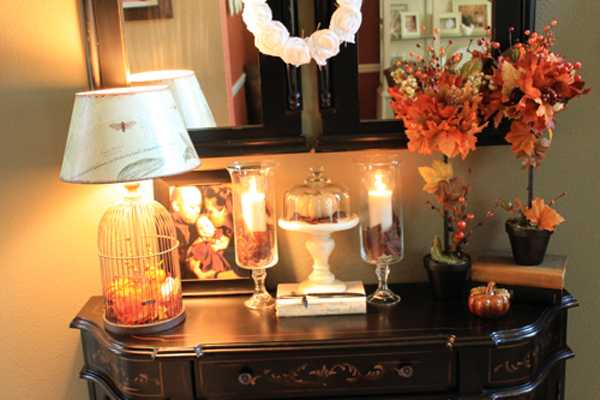 Beautiful and impressive Thanksgiving table centerpieces you can buy in your local craft stores can be pricey. Make home decorations with fall leaves and enjoy an amazing look, saving money.
25 Thanksgiving decorating ideas, individual table centerpieces and napkins
20 affordable floral table centerpieces for Thanksgiving decorating
You will need a flower pot, soil or small rocks, a wooden bar, a florist foam, dried fruits and autumn leaves in bright colors. Get inspired by your desire to develop attractive and original Thanksgiving decorating ideas and design cheap home decorations and table centerpieces for fall holiday and special occasions.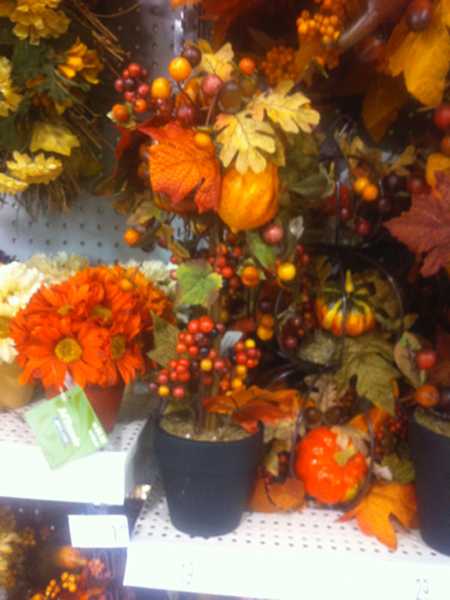 You can make many different beautiful compositions, flower arrangements and table centerpieces with fall leaves. Here is a collection of Thanksgiving decorating ideas for skilled and crafty hands.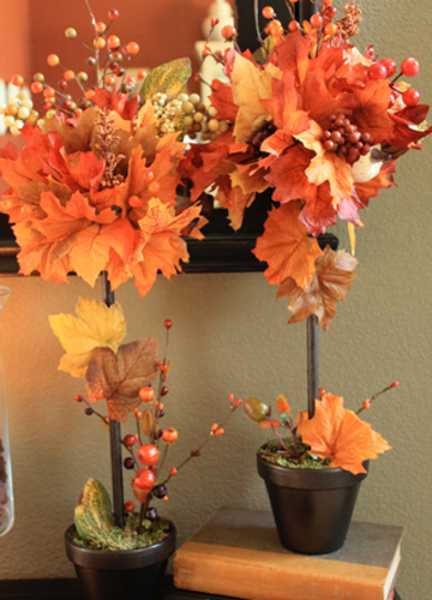 How to make these fall decorations and Thanksgiving table centerpieces
Posted: 20.11.2012 by Decor4all