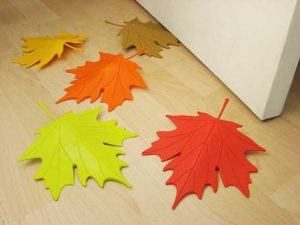 Colorful fall leaves are an excellent material for crafts that brighten up fall decorating ideas. Yellow, purple, orange and red leaves give inspirations to designers also. Leaf shaped Door Stoppers in green, yellow, purple, orange and red colors are a great solution for badly hung doors, or doors that won't stay open on their own, making attractive home accessories for home decorating in autumn.
Leaf shaped door stoppers conveniently and reliably keep doors propped open, adding colorful accents to room decor. Beautifully designed door stoppers from Qualy decorate the floor with nature inspired designs and hold doors securely open. These door stoppers in various colors look like leaves fallen on the floor in autumn.
Autumn Doorstopers look organic on the floor, like they were brought by autumn wind. These fall leaves make excellent inexpensive gifts that are delightful and cheerful. Green, yellow, orange, red, brown, terracotta and black fall leaves door stoppers add bright, warm and neutral colors and organic design to your room decor.
Colorful Autumn door stoppers
Fall decorating ideas, colorful leaf shaped door stoppers
Designers from Qualy created simple and positive home accessories, that can set optimistic mood in your room in fall. Small functional and decorative accessories truly can transform interiors, decorating our homes with color and pleasant designs.
Colorful leaf shaped door stoppers are great for creating a special atmosphere for holidays and birthdays in fall. Unique gifts, these door stoppers are versatile and suitable for any home styles and room decorating color schemes.
Colorful home accessories for fall decorating
Colorful fall leaves is a nice idea to warm up cold and boring entryway design and add playful design and more interest to all other rooms decorating.
Making fall leaves of paper, festive fall decorating ideas
Chic fall decorating ideas inspired by fallen leaves brown colors
Neutral or bright warm colors can make fall decorating ideas feel sunny and joyful, adding pleasant details to room decorating that delight you and your guests.
Unique gifts for fall holidays and birthdays, Autumn door stoppers in boxes
Posted: 25.08.2012 by Decor4all