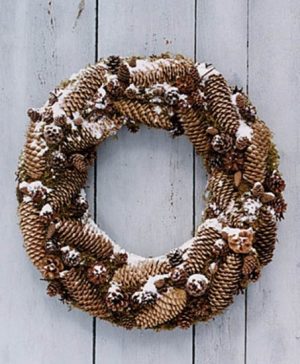 Fall and winter decorating ideas are inspired by wonderful winter holidays. Green branches, pine cones, Christmas tree decorations and mini lights are popular for making Christmas wreaths for beautiful wall, window and door decoration in fall and winter that adds charm and unique character to homes.
Evergreens, tied with red ribbon and adorned with artificial apples, pine cones, berries and mini lights, are wonderful and inexpensive door decorating ideas at Christmastime. 30 simple Christmas wreath ideas, selected by Decor4all for indoor and outdoor winter decorating, are creative and inspiring, easy to make and cheap home decorations.
You can design elegant wreaths for winter decorating and use them as wall or door decorations for few months, changing design details in spring. After winter holidays, door wreaths, made of grapevine branches, decorated with floral ornaments, will keep the festiveness in the home.
Wreaths made of grapevine and evergreen branches
Charming door wreaths, made of grapevine, pine cones, fruits and evergreens
Wreath symbolism
The round shape of traditional wreaths symbolizes the circle of life. Wreaths made of dried tree branches, pine cones and leaves represent the cycle of nature. Christmas wreaths, made with tree branches, especially with evergreen and grapevine branches, apples and berries are the symbols of eternal life.
The evergreen tree branches are important spiritual symbol in many societies. A tree, leaves, seeds and fruits are symbols of fertility and life. Evergreen branches, used for making wreaths, symbolize the eternal life.
Wreaths for wall or door decoration
Evergreen wreaths have been used for wall and front door decoration since the earliest times. Door wreaths are meaningful. Door decoration with a wreath was a part of celebrating of the survival of life against the odds, the lack of food and the cold of deep winter.
Door decorating ideas that include green colored boughs represent hope and new life. Door wreaths in brown color, decorated with bright fruits, birds, berries, leaves and ribbons bring comfort and peace into homes.
Holly tree branches with glossy leaves and red berries are popular alternatives for door wreaths, made of evergreens. Snowflakes and flowers, made of drinks bottle plastic, help to recycle household items and create beautiful wreaths for front door decoration.
Winter decorating ideas
Unique wall decorating ideas, Winter Landscape, wool painting
Wool painting, handmade gifts and wall decoration ideas
Making door wreaths for winter decorating
Making wreaths is fun craft ideas for fall and winter decorating. Look at  these easy to make wall and door decorations and you will be hooked on the projects, creating charming wall and door wreaths for indoor and outdoor fall and winter decorating.
For creating wreaths for fall and winter decorating collect evergreen branches or purchase a grapevine wreath in the middle or large size for your wall, window or door decoration. Grapevine wreaths are made from the dried branches of a grapevine and they look natural and elegant, offering inexpensive, versatile and attractive door decorating ideas.
Add unusual flavor to a wreath, using unusual materials for unique door decoration. Spray the wreath with a can of spray-on adhesive, glue artificial apples and berries or colorful yarn balls. Sprinkle door wreaths branches with white, gray, black, light blue or golden glitter to add charm and chic to winter decorating ideas.
Adorn the wreath with your favorite Christmas decorations, adding traditional or extravagant fall and winter decorating accents to your wall or door decoration. You can attach ribbons and apples, leaves and berries, or create unique ornaments of recycled plastic. Scissors, wire or a hot glue gun are all you need for creating personal door decorating ideas for your beautiful home.
To ensure the correct placement of your wreaths decorations, lay the wreath on a flat surface and position the ornaments. Stand back a bit and make sure you like wreaths design, the look and color combination for your wall or door decoration before using wire or hot glue.
Make a loop of a piece of wire and attach it to the back of the wreath for hanging. Use the wire that can support the weight of your door decoration. Hang your wreath on a wall or a door and enjoy your door decorating ideas and a festive feeling that handmade door decorations create.
Decorative bird house for kids rooms
Beautiful wallpapers for kids rooms decor
Posted: 27.11.2011 by Decor4all