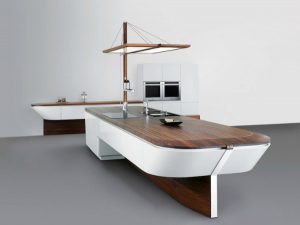 Nautical decor is a popular and very attractive decorating choice. Nautical gifts and and beach home decor are excellent for people living in coastal communities. Unique and impressive, artistic and creative nautical decor items make wonderful gifts that bring the ocean spirit into homes, creating adventurous and romantic mood.
Nautical theme is a great inspiration for contemporary kitchen design also, say designers from Alno. Contemporary kitchen that looks like a boat is another way to enjoy the beauty of the ocean waves and wooden boats, beautiful materials and unique design ideas, developed for nautical decor.
Are you ready for a voyage? – the German kitchen design experts ask. Nautical contemporary kitchen design Marecucina from Alno, www.alno.de/ offers a stylish and unique way to make your life more exciting, creating the feeling of being on a wooden boat.
Paper Boat dinnerware sets, nautical theme party table decoration ideas
Modern kitchen design, inspired by wooden boats and yahts
The German company is one of the biggest manufacturers of modern kitchens in Europe. Functional and elegant modern kitchen design Marecucina are perfect for coastal homes and wll who enjoy nautical decor, nautical gifts and decorating theme.
Nautical theme inspired designers to create contemporary kitchen design, which includes small details of a wooden yacht.
Unique contemporary kitchen island design, that looks like a yaht, modern kitchens from German manufacturers
Marecucina is a stunning, exclusive and luxurious kitchen design that creates the atmosphere of sea voyages, adding unique personality to modern kitchens and bring romantic mood into homes, celebrating the nautical theme.
Nautical bedroom decor, bright colors and fun decorating ideas for kids
Posted: 25.01.2012 by Decor4all