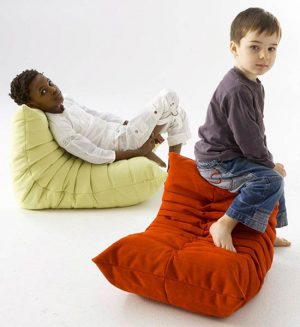 Playful kids furniture design ideas add fun and joy into interior decorating of kids rooms. Kids rooms look more stylish and functional with designer chairs and other furniture items, offering comfortable, safe and stimulating living spaces for children. Mini Togo chairs look like kids toys that will stimulate children's imagination while providing soft seats.
Mini Togo chairs from Ligne Roset, www.ligne-roset-usa.com/feature playful kids furniture design, simple form, soft and pleasant upholstery fabric and attractive colors.
Mini Togo chairs are about unique design and extra comfort. These kids furniture items are made of foam, as the original Togo pieces.
TANTO bean bag by Antonio Scarponi, modern furniture for kids rooms
Decorative cushions, food inspired designer pillows
Designer furniture for kids rooms, soft chairs Mini Togo
Mini chairs design is safe, comfortable and stylish. Children will love these beautiful and comfortable chairs that add a playful flavor to kids rooms designs and create a playroom-like atmosphere.
The MINI collection was in response to the high demand of miniaturizing the adult collection, in which the characteristics of shape, function, comfort and safety (TOGO is entirely made of foam) make it attractive for children and parents alike.
Modern furniture for kids, foam chair design in red color
The MINI TOGO has been created for children ages 5-12 years. MINI TOGO are especially attractive for two reasons: it is the perfect fit for a small child, (attractive for parents and grandparents alike) making it an excellent gift.
Kids and toys, playful decorating ideas for kids rooms
Playful kids plates, wonderful gift ideas for kids
Designer furniture for children, green ad red chairs for kids room decor
Posted: 26.03.2012 by Decor4all