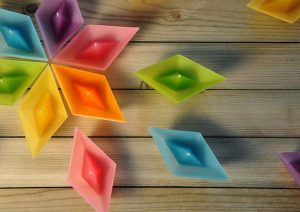 Nautical decor is an excellent choice for party table decoration. Paper boats and miniature lighthouses, candles, sea shells and driftwood pieces, decorated with small beach pebbles, are simple, elegant and attractive centerpiece ideas, that add unique charm of the nautical theme to party table decorating.
Balloons and paper boats are symbols of fun that bring the excitement and playful mood into party table decor. Colorful Candle Sail designs, inspired by paper boats, are gorgeous, nostalgic and pleasant table centerpieces that bring the nautical theme into party table decor and evoke good childhood memories.
Paper boats, floating in the paddles in spring and summer, are symbols of warm sun, blue sky and fun that comes after cold winter. The set of colorful boat-shaped candles Candle Sail from designer Roman Ficek make great table decorations and gifts.
Paper boat dinnerware sets, nautical thene party table decoration ideas
Nautical decor ideas for kids bedrooms
Nautical theme for table decoration
Paper boat-shaped colorful candles for creating nautical theme party table centerpieces
Beautiful, playful and colorful boat-shaped candles will add pleasant color, interesting details meaningful designs to nautical decor, creating playful atmosphere for your party.
Charming bright boat-shaped candles, grouped together, create lovely flowers that can be used as table centerpieces also. A single boat-shaped candle is a great individual centerpiece for nautical theme party table and a lovely after party gift.
Creating floating candle centerpieces with little boat-shaped candles
Boat-shaped candles glow for two hours, according to the designer. Floating candles look very romantic, but floating boats look playful and unusual as well.
Diy candle centerpieces made of citrus fruits, simple table decorating ideas
Candle centerpiece ideas, table decoration with fall leaves and candles
Nautical decor ideas and party table centerpieces
Floating in the water boat-shaped candles in various colors make striking table centerpieces that enhance the nautical theme.
Unique candle set Candle Sail for nautical theme party table decoration
Posted: 09.02.2012 by Decor4all