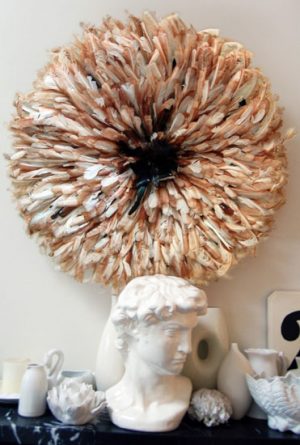 Juju hats are modern wall decor ideas. Large African hats, called tyns or juju hats, made of soft bird feathers, offer unique craft ideas and make unusual wall decorations. Traditionally worn by village chiefs in Cameroon, a small country in Central Africa, juju hats gained popularity all around the world and used as wall art pieces. Gorgeous African hats look exotic, creating striking wall decoration with soft texture of bird feathers.
Interior decorator use exotic African hats as room decor accessories to create an impressive focal point, add unique texture and color to room decorating. African hats from Cameroon are stylish wall decor ideas that transform rooms and create modern home interiors that feel elegant, inspiring and unique.
There are many interesting ways to use African hats as feathers decorations for modern interiors. Interior designers share their wall decor ideas and techniques for wall decorating with juju hats. Beautiful juju hats is a perfect way to bring dramatic changes into home interiors, as Chinese screens and chests, Moroccan  poufs and Central Asian ikat pattern.
Exotic interior design trends
Exotic ikat pattern, modern interior design trends
Blue and green bedroom colors, Moroccan bedroom decorating
African hats for modern wall decor
Called ju-ju or tyns, impressive African hats from Cameroon are made of colorful, black or white bird feathers. Juju hat is a headdress for the hereditary chiefs and nobles in Cameroon, and were designed to use in ceremonies. Also juju hats are beautiful bird feathers decorations of the most acclaimed dancers in Cameroonian tribes.
Juju hats are perfect wall decor ideas. Juju hat on the wall looks like a unique headdress, stored between important events and ceremonies, adding exotic flavor of African decor to modern homes.
Because of the craftsmanship African hats are expensive feathers decorations, that can cost $250 and up to $800, but beautiful appearance and the colors of bird feathers are lovely, from elegant black and soft cream white to bold red, orange, yellow to deep purple and blue, perfectly matching any room decorating color scheme and style.
Modern wall decor ideas
Bedroom wallpaper in black, white and gray, one wall decoration
Bright bedroom wall decoration with modern wallpaper
Modern wall decor ideas, lace fabric and doily patterns
African hats are amulets
Also Juju hats made of beautiful bird feathers are African amulets, that are considered to have powers to protect the person.  Birds are objects of worship. Bird feathers are symbols of beauty and prosperity.  Birds images, nests and feathers decorations fascinate people, creating modern interior design trends for decorating with feathers, birds images, decorative bird cages, bird nests and bird houses.
Bird image for wall decoration, modern wallpaper, stickers and painting ideas
Bird inspired wall decoration ideas for kids
Decorative bird house theme and kids rooms ideas
African hats made of bird feathers look luxurious, symbolizing wealth, power and success. Modern juju hats, once intended only for carnivals, became stylish wall decoration that create unusual and modern home interiors, adding excitement, unique color and texture of bird feathers decorations to interior design.
Exotic wall decor ideas look stunning, bringing ethnic crafts and decorations into modern interior design. Even ordinary, lacking any interest rooms can be dramatically transformed with unexpected and interesting wall decor ideas, like glamorous Cameroon juju hats, that hang on the empty wall.
Craft ideas
10 simple modern wall decoration ideas with fabric
Kids and toys, decorating ideas for kids rooms
Making fall leaves of paper, festive fall decorating ideas
Unusual flower arrangement, wall decoration, craft ideas
Juju hats price depends on the size of feathers decorations and the quality of bird feathers. African hats from Cameroon are usually 30 to 80 cm in diameter and can weigh up to 2 kg or 5 lbs. The striking effect that juju hats create offsets the cost and time to find or make the perfect juju hat for your interior wall decor.
Juju hats are interesting craft ideas that help save money on modern wall decoration. Cameroonian juju hats can be made with bird feathers or other available materials, like felt and yarn, offering inexpensive and creative wall decor ideas and creating modern home interiors.
Posted: 23.09.2011 by Decor4all