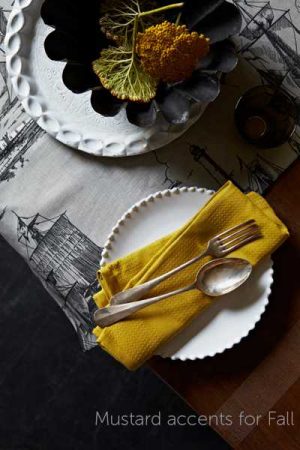 Interior decorating ideas and beautiful photographs from Heart Home Magazine are inspiring and helpful, suggesting how quickly and easily to better your home. Stunning rooms and creative interior decorating ideas transform rooms into stylish and pleasant retreats that invite you to relax and enjoy your charming and comfortable home decor.
Interior decorating ideas that are personal and creative give unique character to rooms and reflect your lifestyle. If you love it, display it, creating intimate living spaces with your favorite objects that can work as unusual interior decorating accents.
Layer you artwork, adding depth to modern interior decorating and blending picture frames in various sizes and styles. Your home decor, showing your personality, look unique, supporting and energizing, suggest interior decorating experts from Heart Home Magazine, hearthomemag.co.uk/
Table decoration ideas, orange colors for fall decorating
Light gray and yellow color scheme, calm fall decorating ideas
Modern interior decorating ideas for fall
Fall table decor with yellow accents, warm and bright fall decorating ideas
Deep yellow and orange colors are excellent autumn tones that add creative reflection of bright leaves in to fall decorating. Rich yellow and orange color shades create spectacular interior decorating accents and brighten up fall home decor.
Natural wood brown color shades work very well with white and black color combination, bringing balance and elegant comfort into modern interior decorating.
White and black bedding with pillow and wall art in deep yellow color
Black and white decorating ideas fill rooms with confidence and style. Black and brown color shades warm interior decorating ideas. Combined with white decorating ideas, black and brown color shades create bright and harmonious rooms.
20 fall decor ideas and crafts to enjoy autumn leaves
Chic interior decorating ideas for fall inspired by fallen leaves in brown colors
Handmade decorations and crafts give fall decor ideas relaxing, calming and familiar feel, while adding eye catching home decorations that make artistic statements.
Posted: 13.09.2012 by Decor4all