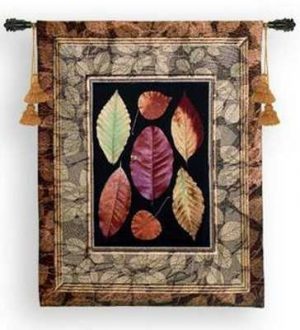 Fall decor ideas and crafts bring bright autumn leaves colors and unique designs into your home. Nature inspired fall ideas for your home decorating will create relaxing and joyful mood, giving your rooms a rustic, comfortable and pleasant look. Wreath and leaf garlands, candle centerpieces and framed autumn leaves are among popular craft projects and welcoming fall ideas.
20 beautiful fall decor ideas and crafts give you the inspirations for your projects for home decorating to celebrate autumn in style. Leaf inspired designs and cheap home decorations made of fall leaves prepare your home for this beautiful autumn season and fall parties.
Autumn leaves are wonderful, bright and interesting. Nature offers beautiful fall colors and unique textures to work with, creating crafts and home decorations in fall. Green, yellow, orange, red and purple autumn leaves and inspired by leaves designs look gorgeous and suit any home decorating style or color palette.
Making fall leaves of paper, festive fall decorating ideas
Maple leaves centerpiece ideas, fall crafts for thanksgiving table decorating
Fall decor ideas and crafts for kids and adults
Fall colors for home decorating, rich room colors inspired by autumn leaves
Brightly hued autumn leaves offer season appropriate decorating ideas. Branches with leaves arrangements, embroidery, garlands and wreaths, framed works and decorative pillows made of fabrics with leaf designs are beautiful and cheap home decorations that welcome the autumn season and celebrate the beauty of leaves in fall.
Autumn leaves create delightful impressions on homemade wax candles and elegantly decorate candle holders. Painting and wall decorating with leaf prints create dramatic effects. Leaf embroidery adorn decorative accessories making them look special and unique.
Tapestry with colorful leaves, fall craft ideas
if you are ready for a bigger fall ideas, use tiles or paints in bold fall colors, or create an accent wall with modern wallpaper designs and leaf patterns.
Red leaves on the wall, fall crafts for kids
Colorful leaves brighten up fall decorating ideas, Autumn door stoppers
 Candle centerpiece ideas, table decoration with fall leaves and candles

Posted: 26.08.2012 by Decor4all