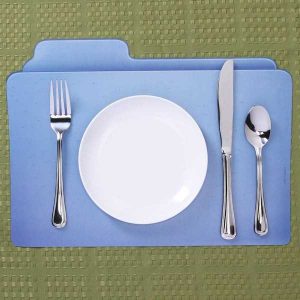 Unusual and creative place mats, tableware sets and small kitchen appliances make excellent gifts and interesting table decorations. Various place mats with joyful, retro or funny designs are perfect for themed party table decorating for kids or adults. It is difficult to imagine a person who would not enjoy looking at unusual table decor items.
Sets that include place mats and color pencils are excellent gift ideas for kids. Designers come up with a lot of kids ideas,  which allow to play while easting. Creative place mats, designed for drawing with markers and pencils, are washable, ideal for young artists and their parents and grandparent also.
Retro fans will be pleased by place mats with old time music records prints. These place mats add nostalgic mood and look familiar for who enjoyed music in 80s.
Playful set of dishes and cups for kids, Train Breakfast Set
Nautical decor, Candle Sail set for nautical theme d party table decoration
Creative place mat designs
Place mats for kids drawings
Place mats for retro music fans
Black board type place mats are convenient. Your can play games or write a note while dining. You can leave a love note for your spouse, or remind about an important event.
French design studio Mr. & Mr. released a collection of 13 dinner place mats, inspired by the famous fresco by Leonardo da Vinci. These place mats are made of fabric and decorated with prints that with prints that depict the hands of all the 12 apostles that gathered for the supper with Jesus Christ. This biblical collection is called Bella Maniera.
Black board like place mat designs
Bible story inspired place mats
Creative and unusual place mats with fluffy moss create a picnic atmosphere, allowing you and your guests to enjoy pleasant and soft texture of moss and green grass.
DIY lace place mats, craft ideas for charming table decoration
Celestial serving bowls, modern tableware sets for table decoration
Posted: 26.08.2012 by Decor4all