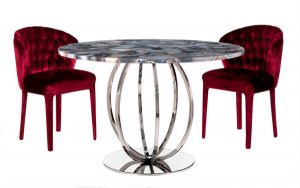 Modern dining room decorating ideas should be functional, comfortable and very attractive. Modern dining room is the area which can be seen from the living room, so dining room decorating ideas should complement living room design and decor, and create a harmonious blend with the modern kitchen interior.
Dining furniture is an important element of modern room design and decor. Indoor and outdoor furniture items, combined with attractive room decor accessories and tableware, make dining room designs stylish and inviting.
Dining furniture sets are perfect for classic and traditional dining room decorating. Dining furniture pieces in various styles ca create a unique blend that adds interest and excitement to modern dining room decorating.
Dining furniture design trends
Contemporary wood furniture for dining room decorating, modern furniture design trends
1. Wooden tables with large table tops made of natural wood and glass pieces are one of crafty design trends for dining room decorating in unusual and artistic style. Oak and walnut wood are among the most popular materials for modern furniture design. These wood types add beautiful natural color tones to dining furniture designs, combined with wooden floor and soft home decorating fabrics, create welcoming and warm dining room interiors.
2. Dining table tops made of metal and tempered glass or natural stone are another dining furniture design trend that brings the grace and beauty of marble, granite and glass into modern furniture design.
Wood furniture, table and chairs with soft cushions and backs, modern furniture design
3. Folding dining tables with stainless steel, aluminum or chromed metal frames and table topes decorated with colored glass, reflect one of colorful dining furniture design trends that adds elegant shine and bright colors to modern dining room decorating.
Glass top table design, DIY project, unique dining room decorating ideas
Tuscan kitchens, inviting Tuscan kitchen decor
4. Transformer furniture design ideas are a way to create space saving dining room design. Made of wood, dining tables transformers are excellent for small rooms.
Striped dining table made of natural stone blocks, contemporary dining furniture design
5.  Dining tables made of natural stone celebrates new technology that allows to create modern furniture of many stone blocks in various colors.
Fusion of contemporary minimalist and classic home decorating styles
Decorative fabrics in bright solid colors, summer party table decoration
6. Dining tables with kegs decorated with leather and contemporary leather-like fabrics are a new modern furniture design trend that creates impressive and exclusive dining furniture.
Red colored glass top table and white chairs for modern dining room decorating
7. A wooden bench, combined with dining chairs create comfortable dining furniture sets in retro style.
8. Round tales are especially comfortable and functional for creating friendly and inviting atmosphere.
Charming home accents, new collection of decorative accessories from Lladro
Dining room decorating ideas, Ottawa collection of stylish home furnishings
9. Chromes metal frames and glass dining tale tops create contemporary dining furniture pieces that looks gorgeous with soft cushions of simple and elegant chairs in light colors.
10. Unique dining table frames and bases, unusual colors combinations and surprising furniture decoration patterns create interesting furniture design trends that are wonderful for stylish, bold and unique dining room decorating.
Unique furniture design, dining table with unusual base and glass top
Dining room decorating in Moroccan style
Posted: 28.03.2012 by Decor4all