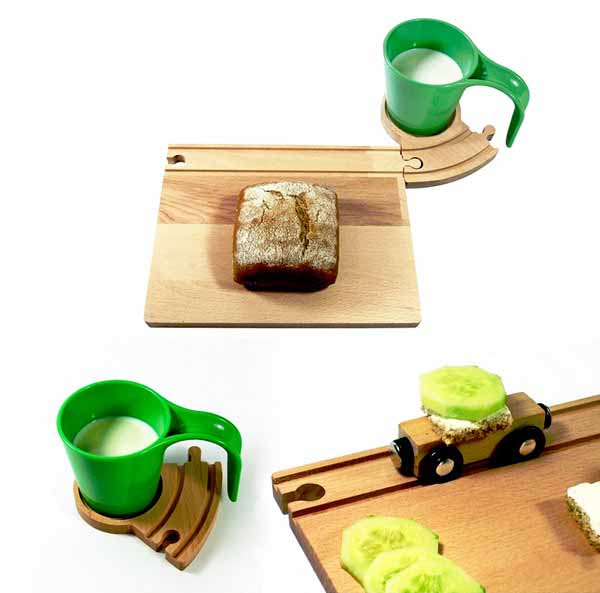 Children's cups and dishes, Train Breakfast Set of colorful dishes and cups for kids

Playful kids cup set from German designers will turns breakfast into exciting game, creating fun atmosphere and offering colorful kids table decorations. Train Breakfast Set includes a wooden boards that work as kids dishes and kids cup holders, dishes on small wheels and colorful cups for kids.
Fun loving designers from Neue Freunde, neue-freunde.org/ created a wonderful Train Breakfast set of kids dishes that look like small train vehicles and move along a track, transporting sandwiches and fruits from mom to kids. Colorful cups for kids look cheerful and playful also.
Children's cups have comfortable handles and bring vivid colors into kitchens and dining rooms, creating bright kids table decoration.
Colorful tableware for kids and table decorations for fun breakfast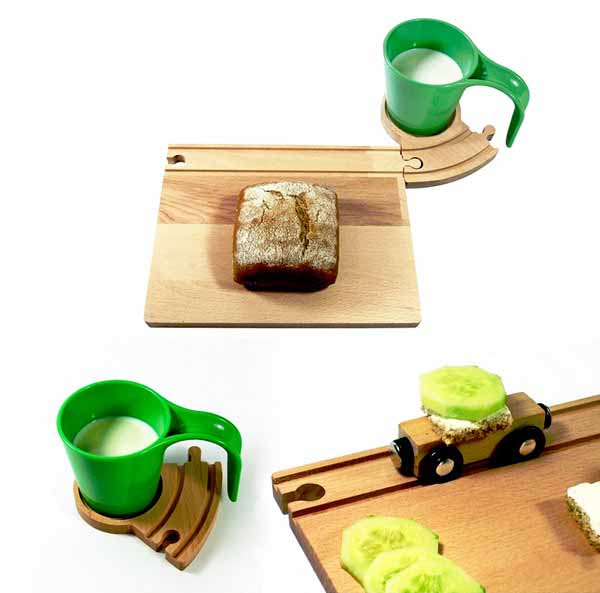 The set of moving dishes and cups for kids includes a wooden board that works as a rail station where train vehicles load and unload sandwiches from dishes.
Few similar boards can be connected for creating a longer rail track across the kids table and add more fun to their breakfast.
Tableware for kids and table decorations for breakfast
Designers provided train vehicles with rubber wheels and kids dishes. Delivering a sandwich, a slice of bread or pieces of vegetables and fruits is a piece of cake.
Kids table decorations, toys centerpieces
Spinning kids table decorations
Several wooden boars, colorful dishes and cups for kids can be combined into a large Train Breakfast Set which allows to transport food from one kid to another.
Children's cups in yellow and green colors, playful tableware for kids and table decorations
Kids table railroad with wooden carriages and dishes stretches between colorful children's cups, bringing food from one rail station to another.
Kids table decorations for Halloween
Kids and toys, playful decorating ideas for kids rooms
Wooden boards are convenient and multifunctional. They can serve as kids dishes and cutting boards, cake stands and trays. The cost of Train Breakfast Set, which makes wonderful gift for kids, is about 30 euros.

Posted: 20.02.2012 by Decor4all