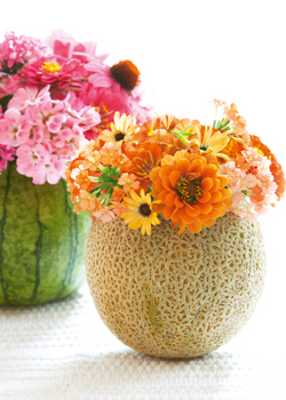 Simple fall craft ideas for making attractive and colorful fall decorations will help you select the best DIY project to welcome beautiful autumn into your home. Autumn leaves and fall flowers, apples and tea candles make wonderful fall table centerpieces and home decorations. Here are 22 very simple and easy to make fall decorations that add warm color and creative design to your home.
These craft ideas may inspire your own designs. Unique fall decorations help personalize your room decor and create a pleasant atmosphere, welcoming this beautiful season with bright colorful fall crafts and flower arrangements.
Most of these DIY fall home decorating projects takes only 15 – 30 minutes, but unusual design and colorful fall flowers create dramatic effects, warming your fall home decorating ideas. Fresh combinations of simple objects and fall leaves make your home decor feel interesting and attractive.
20 fall decor ideas and crafts to enjoy autumn leaves
Colorful fall leaves brighten up fall decorating ideas, Autumn Door Stoppers
Simple fall craft ideas for home decorating
The most popular fall decorating ideas include flower arrangements and handmade table decorations with fruits and vegetables. You can also make beautiful fall wreath for your windows and door decorating.
Ceramic or glass vases, bowls or pretty containers and planters look gorgeous with fresh fall flowers and grasses or dried flower arrangements in yellow, orange, red and purple colors.
Adding tree branches with colorful fall leaves, fruits, vegetables and tea candles turn simple flower arrangements into colorful fall decorations and table centerpieces.
10 candle centerpiece ideas, table decoration with fall leaves and candles
Making fall leaves of paper, festive fall decorating ideas
Fall wreath and simple wall decorations are easy to make also. Use thin wire, ribbons, straw, light ropes or sisal twines for creative and interesting fall home decorating. Natural materials work well with nature inspired designs, bringing charm, comfort and coziness into your home decor.
Posted: 08.11.2012 by Decor4all