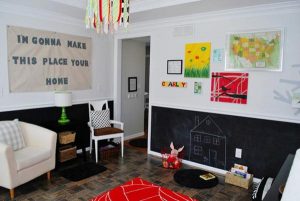 Bright interior paint colors and home furnishings in vivid colors are wonderful kids playroom ideas. Kids love primary colors, and red color combinations that include balancing black and white decorating color shades are great for kids rooms, especially when the color schemes are spiced up with green, yellow and blue color shades, Bright color schemes which include black and white are harmonious and balanced.
Young girls love hot pink, red, green, yellow and blue color shades. The color combinations that include these hues are optimistic, cheerful and stimulating, excellent kids playroom ideas for small children.  Adding black and white decorating ideas to vivid colors is a good strategy to counteract the impact the bright colors create and design beautiful interior decorating color schemes which are harmonious and balanced.
If your child loves bright red, green yellow and blue color shades, here is a n example of bold kids playroom ideas that include black and white decorating spruced up with striking decor accessories in bright red color. White decorating is a mistake proof way to creates a bright room. Black brings balancing contrasts. Bright color shades fill the kids playroom with energy.
Kids playroom ideas and black-n-white with red color combination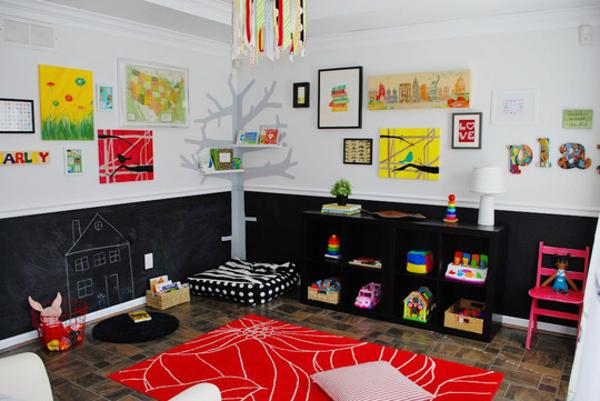 Blackboard paint and colorful decor are great kids playroom ideas. Red floor rugs and wall decorations in bright colors look fabulous with kids toys and furniture painted white and rich pink color.  Red color is excellent for making accents. Red color combinations turn a room into warm and exciting space.
Red color combinations for kids rooms
Red color combinations are warm and dynamic. Intense warm colors, such as reds, yellows and oranges, tend to stimulate, excite and make happy. If your children are warm and affectionate, black and white with red color combinations are great for your kids room decorating, especially a playroom. Red color will feel inviting, warm and fun.

White decorating ideas, combined with red color shades energize. Red accents, interior paint colors or home furnishings in red color shades, combined with neutral color combination of white and black add life to kids playroom ideas and make children creative and enthusiastic.
links
Energetic, warm and bold red colors create fantastic color combinations for kids playroom design and decorating.  Bright green, yellow and blue color accents add sunny and relaxing feel to kids room decorating. While the decor accessories in red color grab attention and stimulate muscle activity, bright green, yellow and blue color combination add interest to interior decorating.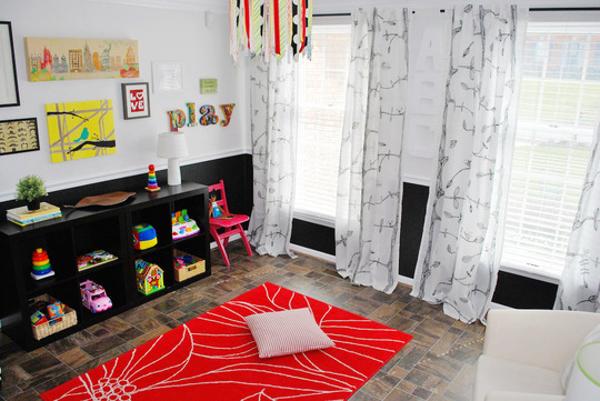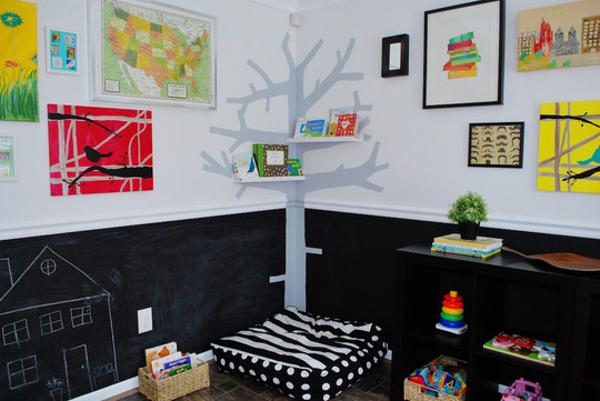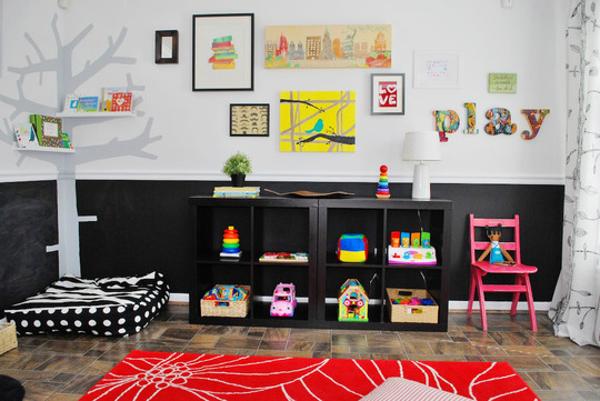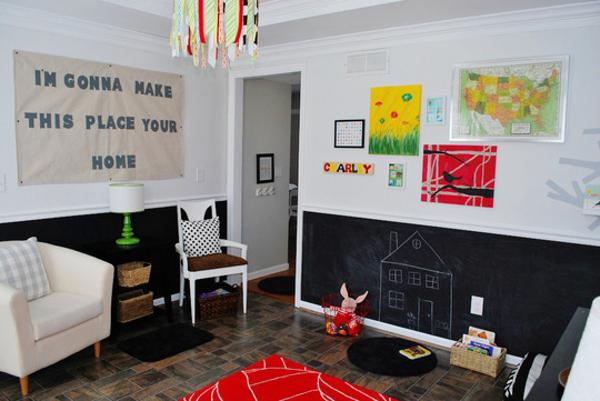 Posted: 24.05.2013 by Decor4all