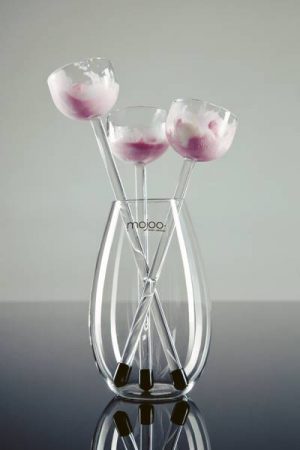 Ice cream flower bouquet made with canape glasses is a nice way to add a striking table centerpiece to your party decor. The beautiful, functional and very decorative accessories from Jakobsen Design add interest and charm to any special occasion or holiday table decoration, surprising guests and delighting your family.
These beautiful ice cream flower bouquet is the latest design idea from Martin Jakobsen, the Czech product designer whose works are influenced by minimalist style and innovative design ideas. His ice cream flower bouquet is a creative and attractive blend of the simplicity and original design.
Glass flower bouquet from Jakobsen Design, www.jakobsendesign.com/ is sweet like a kiss and perfect for an after dinner desert presentation. Beautiful design idea brings gorgeous ice cream canape into table decoration, creating pleasant memory and a sense of luxury.
Canape glasses table centerpiece
Glass vase with canape glasses for ice cream or fresh fruit deserts, elegant table centerpiece
Fresh fruits or ice cream in various flavors make table decoration colorful and bright, pleasing your senses and making your sweet table decor appear exclusive and delicious.
Produced by Mojoo Aps, these glasses create an elegant table centerpiece to your holiday table decor and classy desert presentation.
Unique canape glasses for creating glass flower bouquet
Decorating with glass accessories bring more light into dining room, and pleasant colors of fresh fruit or ice cream deserts fill the dining room with unique aroma, offering a final touch to your special dinner.
Beautiful floral arrangements, yellow color combinations
Simple glass painting design ideas, vase or wine glass painting
Glass vase with three canape glasses filled with ice cream
Posted: 07.08.2012 by Decor4all