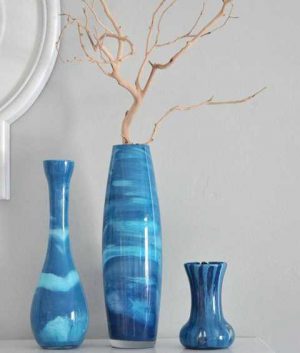 Glass painting add color to ordinary cheap  clear glass vases, turning them into bright decor accessories and excellent inexpensive gifts. Painted glass vases and bottles are wonderful table decorations for wedding and holidays. Fresh flowers and dry branches or branches with green leaves, berries and pine cones look gorgeous in colorful glass containers, offering striking table centerpieces.
Simple glass painting ideas are a creative way to transform found on flea market glass vases, bottles and old dinnerware pieces into unique room decor accessories and shelf or table decorations. Glass painting and decorating with branches, leaves, berries or pine cones are a nice craft ideas for kids and adults.
Glass painting turns an ordinary clear glass vases, bottles, bowls or drinking glasses into an eye-catching beauty. You can paint the glass vases and bottles to match your home decor ideas and room decorating color scheme. Hand painted glass vases and bottles are excellent for adding flower arrangements or creating fruit table centerpieces.
Simple glass painting design ideas, vase or wine glass painting
Glass painting ideas, dads birthday and Fathers Day gifts
Blue vases with dry branches, hand painted decorative accessories
Glass painting surfaces are readily available. Painted glass items are functional, which makes glass painting designs easy and attractive for everyone. Painting clear glass is not difficult. Even simple glass painting designs, easy stripes, leaf and floral patterns or dots look amazing, combined with glass texture.
Glass painting is currently one of the most popular craft ideas for home decorating and gift giving. Painting on drinking glasses, vases, bottles, bowls, ornaments and even windows add beauty and charm to modern home decorating. Because glass is a clear medium allowing light to stream through it, glass painting tends to be bright, bringing pleasant colors into room decor.
Hand painted glass vase for bathroom decorating
Glass painting designs and techniques vary, offering many different craft ideas for adult and kids. One way to paint on glass is with inexpensive opaque acrylic enamel paint, which is available in various bright, intense colors. After it is dry, you can bake it to make it permanent and washable.
Glass bottled decorating, craft ideas and table decorations
Hanging vases for home decorating, craft ideas, diy decorative accessories
Imagine a set of decorative vases or bottles that create wonderful table centerpieces with flowers or branches with leaves, berries and pine cones. Hand painted clear glass vases are excellent home decorations for interiors and outdoor rooms, wedding, special occasions, holiday table decorating or bright and unique outdoor party table setting in summer.
Glass painting designs for home decorating, drinking glass with hand painted butterflies decorations
Once you try glass painting on clear glass vases, bottles bowls or drinking glasses, you'll find you have more ideas for many art and craft projects to decorate your home. Glass painting designs are gorgeous, and painting on glass turn simple glass items into unique and very special gifts. The possibilities are endless.
Posted: 21.08.2012 by Decor4all