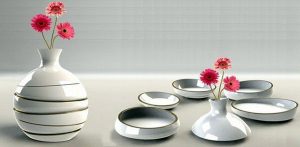 Eva Vase is a unique and cute 6-in-1 home accessory, a contemporary set of a charming small vase and five serving dishes. The vase can grow when you stack dishes on top of each other, making an eye catching home accent and offering a smart space saving solution for serving dish storage. This functional and very decorative accessory is great for holiday table decoration and for everyday use.
Eva Vase is a multifunctional home accessory that give unique character to kitchen island, coffee table or dining room decorating, bringing unusual design, shiny texture and beautiful white cream color into your home interiors.
The vase that can serve in many different ways makes an excellent gift also. The vase is a clever storage idea. It can be divided into five serving dishes where you can store candies, fruits or cookies.
Decorative home accessories, Showtime Vases, unusual porcelain vases
Cute decorative accessories from All Lovely Stuff, modern home accents
Eva Vase and serving dishes
White vase and five serving dishes, functional and decorative accessories for kitchen island, soffee table or dining room decorating
If you don't want to store a lot of tableware than it's a perfect solution for you. Five dishes help the vase to grow, creating a large vase for beautiful table decorating with flowers.
The designer Inon Retting is from Israel. As a student, she developed this interesting vase concept for interior decorating. The concept allows to create different versions of the vase, transforming it from a small asymmetrical contemporary vase to a large more traditional looking home accessory.
6-in-1 table decoration, unique vase that consists of a small contemporary vase and five serving dishes in white color or with golden accents
Serving dishes have irregular shapes, adding a beautiful accent to this vase design. Ideal for small apartments, kitchen island, coffee table and dining rooms, Eva Vase is a decorative accessory and a functional room decor item that maximizes the space in small rooms.
Simple glass painting design ideas, vase or wine glass painting
Fall holiday decorations, gourd and pumpkin vases
Posted: 17.02.2012 by Decor4all