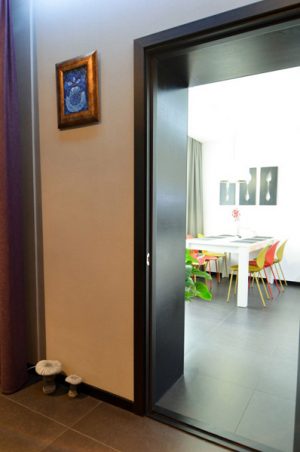 Creative and colorful apartment ideas from Ukrainian architects give unique personality to modern interior design and decorating, creating bright and comfortable living spaces with an artistic and exotic flavors. Cheerful color combinations and bold contrasts turn these modern interiors into exotic and beautiful rooms.
Kiev based studio Yunakov Architecture Construction, www.yunakov.com/ has developed these modern apartment ideas with bright room decor and designed the contemporary and warm place to live in the capital of Ukraine.
The apartment in Kiev offers 1,076 square foot living space, two bedroom, two bathrooms, contemporary kitchen design and very attractive interior decorating, including unique room decor accessories and artworks.
Colorful apartment ideas
Living room design, unique wall art and colorful floor rug
Elegant and simple contemporary interior design and decorating ideas are blended into colorful and functional living spaces that show unique collections and designs.
The bright interior decorating color palette ad impressive room decor accessories, unique artworks and colorful floor rugs add interest and excitement to modern apartment ideas, making this home feel inviting and stylish.
Unique wall artworks and bright floor rug for modern living room design
Modern lighting and wall decor, combined with beautiful natural wood texture make these apartment ideas feel warm and luxurious, offering contemporary interior design and decorating with Eastern charm and exotic flavor.
Colorful bedding and wooden bedroom furniture, bedroom decor with exotic flavor
Posted: 07.05.2012 by Decor4all