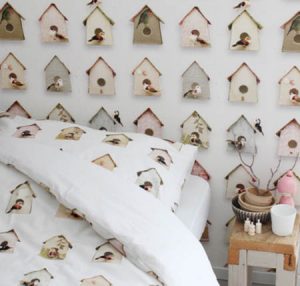 Beautiful wallpapers for kids rooms are cute and interesting. Bird houses and buttons, animal skeletons and realistic graphic wallpaper patterns are excellent for creating interesting kids rooms decor. Children like unusual room decorating ideas. Colorful striped walpaper patterns and white and black wallpaper designs that encourage kids to add a splash of color to their wall decor, are fun decorating ideas for kids.
Creative and funny, pleasant and beautiful wallpapers for kids rooms from Dutch Design Studio Ditte, www.studioditte.nl/offer exciting room decorating themes that children will enjoy. Bird houses and buttons, depicted on beautiful wallpaper from Ditte look realistic and pretty. Dynamic and bright stripped wallpapers for kids rooms decorating create amazing illusions, adding depth and interest to wall design.
Kids rooms decorating ideas can be very different from other room decorating. Interesting and stimulating, playful and funny, beautiful wallpapers for kids will help develop their imagination and creativity. Let children bedroom designs be dynamic and unusual,  encouraging children be curious and artistic.
Modern decorating ideas for kids rooms
Decorative bird house theme, kids rooms ideas
Bird wall decoration ideas for kids rooms
A talented British illustrator John Burgerman, www.jonburgerman.com/ not only illustrate bright children's books, but likes to create funny wallpapers for kids. His characters on latest wallpapers for kids rooms are drawn in white and black, waiting for children to color their walls as they like.
Imagine the joy of a child that is creating his own wallpaper design for his wall decoration. Drawing on the wall is one of modern ideas for kids rooms that encourage children to express themselves, making the world a little brighter. Drawing on the wallpaper quite small – and that means they will last a long time.
A British company PaperBoy offers handmade wallpapers for kids rooms decor, creating interesting wallpaper patterns in white and black and gray and black colors for brave pre-schoolers. Friendly skeletons look like shadows in the kids rooms walls, inviting children to count them or make stories.
Silhouettes of dinosaurs and existing animals bring exciting kids rooms decorating themes, adding fun and joy to children's world. Barbara Chandler, the founder of the brand, tests each new kids wallpaper patterns with her school-age sons. Beautiful wallpapers for kids with dinosaurs, cute little animals and huge elephants or giraffes are unique and stylish, kid-friendly and interesting kids rooms decor ideas that children will enjoy.
Kids rooms decorating ideas
Wallpapers for kids, room decorating ideas from Dragons
Kids and toys, decorating ideas for kids rooms
Posted: 21.02.2012 by Decor4all