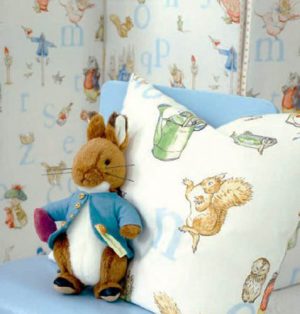 New wallpapers for kids room decorating from Dragons bring familiar decorating themes and beautiful blue, pink and red colors into children bedrooms. The collection of latest wallpapers includes Beatrix Potter, Nautical, Thomas, Flower Fairies and Paddington kids room decorating themes from this famous British company.
Beatrix Potter wallpapers designs are inspired by stories, written by an English author Helen Beatrix Potter. Colorful wallpapers for kids rooms will add fun to children bedroom designs with pleasant and relaxing blue, pink and red colors, countryside charm and famous characters from The Tale of Peter Rabbit, which celebrates English countryside beauty and country style.
Cute characters, Squirrel Tracy, Peter Rabbit and Mouse Johnny will come to children from wallpapers and create bright and interesting kids decor. Pillow covers, cushions and blankets with images of Peter Rabbit and Mouse Johnny and Squirrel Tracy are beautiful kids decor accessories that help create light and cheerful kids room color palette.
Wallpapers for kids rooms
Bird inspired room decorating ideas for kids
Beautiful wallpapers for kids rooms from the Flower Fairies collection are excellent choice for girl bedroom designs. Pretty cushions, blankets, ottomans and fabulous images of flying fairies are wonderful room decorating ideas for kids, that bring romantic and pleasant pink colors into bedroom designs for little princesses.
Nautical kids room decorating theme is perfect for boys. Inspired by sea voyages, adventurous and cheerful wallpapers for kids create bright and energetic nautical decor for young sailors and explorers. Beautiful blue and red color palette, tall ship models, bedding fabrics with night stars and signaling flags prints are interesting and stimulating decorating ideas for kids rooms, inspired by ships and beautiful night sky.
Patriotic decoration, kids rooms decor and flags color schemes
Nautical decor, bedroom decorating ideas for kids
Kids bedroom wallpaper patterns from the Thomas collection add a famous character, which all kids love. Peaceful and relaxing white and medium to light blue colors, combined with bright red accessories create optimistic environment and add more fun to young children bedroom designs.
Beautiful wallpapers for kids from the Paddington collection invite bear cubs  into children life, encouraging to add more color to wallpaper with drawings and writing, enjoy an exciting jorney and create personal and cozy kids room wall design.
Funny and cute characters that live on curtains and wallpapers in kids rooms add pleasant decorative accents and wonderful harmony to decorating ideas for kids rooms, creating magic and fun atmosphere in children bedrooms.
Kids room decorating ideas
Sculptured contemporary rugs for kids room decor
Kids bathroom decor themes for boys
Posted: 17.11.2011 by Decor4all