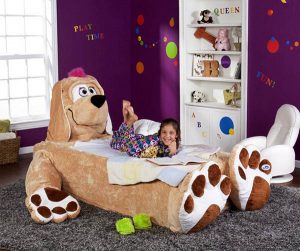 Animal beds for kids are fun bedroom furniture design ideas that look like stuffed toys. Kids take toys to beds for comfort and safety. Attractive and huge stuffed animal beds for kids are toys that are waiting for children in the bedroom. Large and soft Teddy Bear beds feel safe, comfortable, warm and playful.
Stuffed animal beds are cute and functional kids bedroom furniture design ideas that come from Incredibeds Bedjammies design studio. Designers create and manufacturer beautiful kids beds for boys and girls, offering incredible bed covers that transform regular beds into giant characters children love.
Dinosaur T-Rex Incredibed and Floopy Dog Incredibed can be decorated differently for boys and girls bedrooms.  Pink dress and charming bows are for girls beds. With long soft and warm arms, kids beds are excellent for children to cuddle and feel safe and secure in the bedroom.
Kids rooms decor ideas
Wallpaper for kids, room decorating ideas from Dragons
Beautiful wallpapers and kids rooms decor ideas
Stuffed animal bed for kids, bedroom furniture and toys
Unique beds for kids bedroom are furniture pieces that will add more fun to kids rooms decor, creating playful environment with incredible, large and warm decorations.
Creative kids beds are wide, soft and comfortable, and provide good rest for children after play. Special rails make kids beds even safer. Rails are soft and pleasant, but hard enough to be noticed.
Incredible beds for kids rooms
Animal beds will look great with kids bedroom furniture in any style. Stuffed animal beds for kids, like toys and books, will become a part of kids rooms decor in any style.
Sculptured contemporary rugs for kids rooms decor
Decorative bird house theme for kids bedroom
Soft and comfortable, unusual beds for kids bring favorite characters, beautiful design ideas, smiles and joy into children life.
Flags color schemes for kids rooms decor
Kids and toys, playful kids rooms decorating ideas
Posted: 03.12.2011 by Decor4all