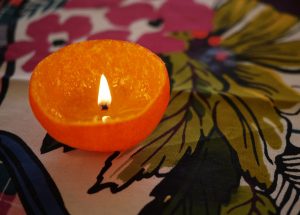 DIY candle centerpiece ideas are excellent for simple and charming table decoration for a dinner party. Candle centerpiece made of orange skin is a beautiful, simple and clever idea that will surprise and delight your guests. The citrus fruit candle centerpiece is perfect for romantic holidays and family dinners, birthdays and Valentines Day table decoration.I was so excited by this simple yet clever idea, I had to share the tutorial on
The tutorial was shared on HonestlyWTF, honestlywtf.com/ It will help you discover a simple and quick way to create impressive, warm and welcoming table decor for any special event and holiday, adding glowing light and rich orange color to the table decoration.
You can use oranges or tangerines, which are easy-peeling citrus fruits for making beautiful candle holders. Any other citrus fruits with thin skin work well also, when combined with a tea light candle or a wick and a tiny tin for oil.
Creative candle centerpiece idea
Orange candle centerpiece ideas for charming table decoration
Simple steps for making a candle centerpiece of an orange.
To make this beautiful table decoration you will need oranges with attached stems, olive or vegetable oil, a craft knife, a spoon and matches.
Graceful music themes party table decoration ideas
Middle Eastern party table decoration ideas and candles centerpieces
The stem side of the orange will be the bottom and base of the candle centerpiece. Lightly score a ring around the top 1/3 portion of the orange and peel off the top.
Gently separate the orange from of the peel with the help of a spoon. Slowly work the spoon towards the bottom and pry the orange out from the sides, making sure not to break through the middle.
Citrus fruits for making candles centerpieces for table decoration
Once the flesh of the orange is taken out, the pith connecting the outer stem should remain. The pith will be the wick of the candle. Snip the outer stem off with a pair of scissors so the candle centerpiece can sit flat.
Candle centerpiece ideas, table decoration with fall leaves and candles
Fall holiday decorations, warm thanksgiving table decoration
Pour a few glugs of olive oil into the orange, leaving just the very tip of the pith exposed. Use the spoon to submerge the top of the pith into the oil for just a few seconds. Simple and charming citrus fruit table centerpiece is now ready to be lit and add a gorgeous accent to your table decoration.
Handmade table decorations and centerpieces, creative candle centerpiece idea for unique table decor
If you're having trouble lighting the pith, it's probably because it has too much moisture. Try letting the peel dry overnight without oil and don't forget to submerge the tip into oil for a few seconds before lighting your table centerpiece.

Posted: 31.01.2012 by Decor4all