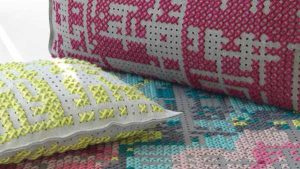 Cross stitching on felt, metal or wood is one of the most surprising trends in home decorating and furniture design. Stylish clothes and room decor items, like table runners and decorative pillows, look fantastic with cross stitch embroidery, influencing other modern decor accessories and even furniture design, including upholstery fabrics and wooden or metal parts.
Cross stitching is an ancient art and craft that creates beautiful decoration patterns. They are simple and elegant, which makes it possible to create felt, metal or wood furniture with cross stitch embroidery. The Belgium designer Charlotte Lancelot surprises and delights customers with the charming, cross stitch inspired, beautiful Canevas Collection of living room furniture and decor accessories.
Bright and unusual, colorful and super modern furniture and decor accessories, – sofas, poufs, decorative pillows, tapestry and floor rugs, are created for Spanish brand Gan Rugs. The unique collection features modern furniture pieces that are modular and very functional.
Cross stitches for modern furniture decoration
Handmade furniture and home decor accessories reinventing cross stitch embroidery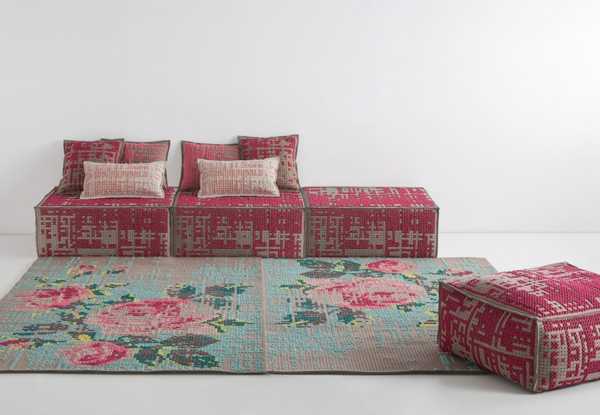 Furniture material is covered with small holes that form a net which allows to design gorgeous cross stitch embroidery patterns, making furniture, decorative pillows, tapestry and floor rugs look striking, original and exclusive.
This amazing collection of modern furniture and decor reinvents the traditional cross stitch embroidery technique, adding cross stitches to furniture design instead of decoration patterns and prints of traditional furniture upholstery fabrics.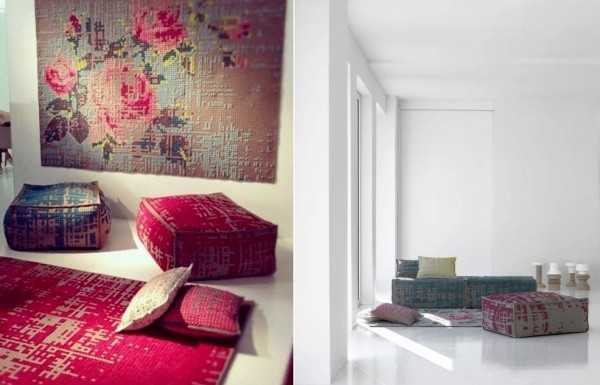 Cross stitching has its unique charm. Flower designs and green leaves patterns on furniture, tapestry and floor rugs look distinct, offering an innovative way of furniture design and home decoration. Cross stitching looks very contemporary on large wood and metal surfaces, different from the look that cross stitch embroidery creates on fabrics.
Cross stitched wood, 8 unique home decorating ideas and crafts
Cross stitch patterns on empty walls, quick colorful wall decorating ideas
Abstract decoration patterns created with cross stitches are especially impressive, enhancing a contemporary look of modern furniture design with stitches reminiscent of digital pixels. Cross stitch embroidery with flower designs makes modern furniture and decor accessories appear soft, crafty and cozy.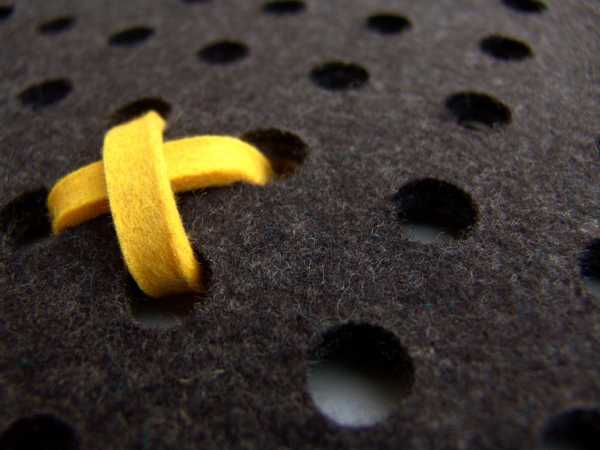 Modern sofas, poufs, decorative pillows, tapestry and floor rugs from this amazing collection, adorned with cross stitching, are stylish and comfortable modern decor items that can be arranged in different combinations for making any room in your home multifunctional, unique, attractive and comfortable.

Posted: 05.11.2012 by Decor4all