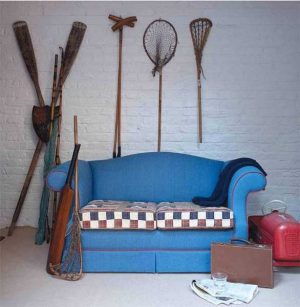 Nautical decor theme brings blue-red and white color combinations and wonderful decoration patterns that create an adventurous atmosphere in kids rooms. English company Dragons offers fabulous home furnishing collections Pirat Mice and Geared for Boys for young sea lovers that dream of exciting voyages in their rooms.
Interior decor accessories, textiles, beautiful wallpapers and kids room decorating ideas are designed in classic English style. Bold blue, red and white color combinations are a sure way to create bright and energetic kids room decor.
Classic decoration patterns and beautiful nautical designs, walls painted in natural bright color tones and hand-painted artworks with scenes that support the nautical theme, privateers and pirates adventures are excellent choices for elegant and interesting kids room decorating, embracing the maritime style.
Furniture and dcorating ideas for boys bedrooms
Wood furniture for boys bedrooms
Children's beds and dressers with colorful tall ships, air crafts and locomotives are great for boys bedrooms. Window curtains and kids furniture upholstery made of soft high quality materials, gorgeous prints of tall ships, patriotic decoration patterns like blue and red stars, inspired by the American flag, create bright room decor in boys bedrooms.
A wide variety of textures, decoration patterns that celebrate the sports and nautical themes, combined with bright blue-red and white color combinations, look fantastic for boys bedrooms, creating beautiful room decor for brave and strong young travelers, explorers and athletes.
Blue and red color combination and nautical decor patterns for boys bedrooms
The storage cabinets, drawers and room decor accessories are beautifully designed to support these popular boys bedrooms decorating themes. Even kids toys and boys bedrooms accessories, floor rugs and wall decorations seem to be perfectly in tune.
Nautical decorating ideas for kids rooms from Pottery Barn Kids
Nautical bedroom decor, bright colors and fun decorating ideas for kids
Blue and red color combination and nautical decor accessories for creating unique boys bedrooms
Posted: 03.09.2012 by Decor4all