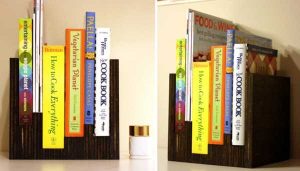 Diy book case is a great project, inspired by the original design of Vintage Books Boxed Set which is available from Anthropology catalog for $1,400. A one-of-a-kind set in a custom made case is curated by Kinsey Marable, who left his job as an investment banker to deal with a more exotic commodity: rare and out-of-print books.
The original book case comes with six vintage cookbooks and is made of Baltic birch plywood. So you can make your own cases for your books, adding functional, attractive and inexpensive designer home accessory to your kitchen or room decor.
The case is custom made to fit certain books your want to display. It is made by gluing few slivers of birch plywood together. This creative, saving money DIY project was spotted at WhollyKao, whollykao.com/2012/01/11/the-anthro-bookcase/
Original book case with vintage cookbooks, unique gift idea
DIY book case made of birch plywood
This appeared to be simple DIY project requires time and patience, but the result is worth it. A wonderful custom made case looks original and attractive.
Buying few books and making a case for them create a great gift that is inexpensive and impressive. It is a fabulous way to surprise anybody with this special gift that shows your talents.
Making book case of plywood
Buy or DIY jewelry organizer, wall decoration in vintage style
Recycling old suitcases for wall shelves, retro home decor ideas
Similar to the original book case design, saving money DIY project
Posted: 02.09.2012 by Decor4all