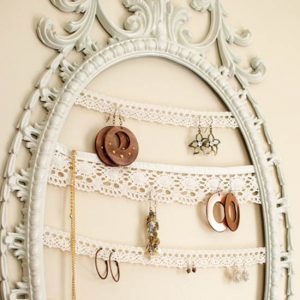 DIY jewelry organizer is a nice storage solution for many jewelry pieces that you do not know where to put. Jewelry is beautiful, and it is a good wall decoration idea. You can put it on display inside an attractive metal or wooden oval frame, creating a gorgeous wall decoration in charming vintage style.
Here is an example of how you can improvise and create a jewelry organizer that will emphasize your room decor in vintage style. Very simple and quick DIY project is a nice way to decorate a wall with your treasures. You need an antique mirror frame, paint and some lace.
A mirror  frame can come in a variety of different materials, sizes and shapes, so if you already have a frame that you like, use it for this DIY project and repurpose it for a unique wall decoration.
Glass top table design, DIY project, unique room decorating ideas
Hanging vases for home decorating, craft ideas, DIY decorative accessories
Jewelry organizer and wall decoration in vintage style
DIY jewelry organizer and wall decoration in vintage style
Take some pieces of lace and attach them to the mirror frame. You can use glue or anything else, depending on the material of the mirror frame. Your can experiment with different lace patterns, creating very personal wall decoration.
You can place horizontal lines from top to bottom of the mirror frame, or you can come up with something more creative, like diagonally arranged lace pieces.
Jewelry organizer made of mirror frame and lace pieces
After the lace is attached to the mirror frame, mount it on the wall and add your jewelry for beautiful wall decoration.
Modern kitchen accessories for spices storage, contemporary spice organizer
Blackboard paint, DIY modern furniture decoration in black and white
DIY jewelry organizer made of an old mirror frame is a nice and simple way of keeping jewelry pieces organized and easy available when you need them. You will always know where to find them and your room decor will look more charming with this wall decorating in vintage style.
This beautiful jewelry organizer, made of a repurposed mirror frame and lace pieces, others jewelry displays and many craft ideas can be found in The Vintage Treehouse on Etsy.
Posted: 05.05.2012 by Decor4all