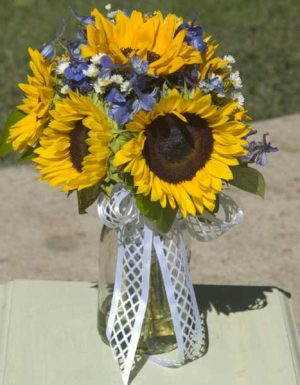 Simple and colorful fresh flower arrangements make beautiful table centerpieces. A bouquet of bright yellow, orange, red and purple flowers add a cheerful accent to party table decoration and make your fall home decorating ideas look bright and festive. Yellow sunflowers, orange, red and purple chrysanthemums look elegant and welcoming, bringing majestic autumn leaves colors into fall decorating.
Yellow, orange, red and purple flowers blend wonderful color shades of wine, cranberry, lemons and tangerines into striking fall flower bouquets. Adding pink, peach, apricot, white or lavender colors make fall flower arrangements look even more expressive and elegant.
Calla lilies in various colors from rusty oranges to dark reds give fall flower arrangements an unforgettable flare with its unique cone-like shapes. Bright yellow, orange, red and purple roses are a traditional favorite, but but by selecting an elegant vase or a pretty basket you can make the flower arrangement more interesting and impressive.
Yellow flower, eco craft ideas for floral table decoration
Beautiful floral arrangements, yellow color combinations
Fall flowers for party table decoration
Orange flower arrangement for fall decorating
Bright yellow, orange, red and purple flowers are excellent for carrying the autumn theme a little truer to fall leaves palette. Yellow, orange and red flower arrangements capture the warmth colors and beauty of the season, creating gorgeous party table centerpiece for fall holidays and special events.
Colorful fall flower arrangements
Gerber daisies, lilies and hydrangeas are colorful, inexpensive and very decorative fall flowers. These blossoms come in many colors and bloom sizes. Gerber daisies have a fun and simple personality and add the boldest natural colors to fall flower arrangements.
Recycling can for fall flower arrangement, eco friendly beautiful fall decorating ideas
Lilies offer elegant fall varieties in deep wines and yellow colors. Lilies have blossoms in large and mini versions that can work for any bouquet, large or small individual table centerpieces.
Hydrangeas are typically large, colorful blooms with dozens of petals on every blossom that are great for large bouquets and special event or holiday table centerpieces.
Fall holiday decorations, gourd and pumpkin floral arrangements
Maple leaves centerpiece ideas, fall crafts for Thanksgiving table decorating
Sunflowers in bloom are the sure sign that summer is over. These warm, bright yellow and orange hued flowers have giant varieties, which are perfect for fall flower arrangements and special party table centerpieces. Smaller versions can be used for elegant individual table centerpieces and napkin decoration.
Individual sunflower table centerpieces
Posted: 01.09.2012 by Decor4all