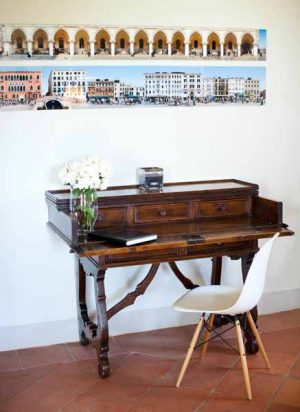 Tuscan decor ideas are a way to add elegant simplicity and comfort to your homes. Beautiful Tuscan decor ideas from designer Victoria-Maria Geyer, used for redesigning and redecorating of Tuscan interiors of an old villa in Italy are inspiring, creating calming and relaxing atmosphere for peaceful and luxurious lifestyle.
The old villa Borgo La Stella, reinvented by Victoria-Maria Geyer, www.victoria-maria.com/ is located in Radda in Chanti to the north of Siena, Italy and offer gorgeous Tuscan interiors, outdoor pool and spectacular surroundings. The former monastery is turned into a wonderful family home.
Antique furniture pieces and contemporary art, vintage architectural features and Tuscan home decor ideas are combined into bright and beautiful Tuscan home interiors.
Tuscan home decor ideas from Luigi Cavalli, Italian interior design style
Backyard ideas, Tuscan decorating style
Tuscan home decorating ideas, living room design with old house brick arch
Villa design and Decor ideas from Victoria- Maria Geyer
The house is called Borgo la Stella, it's has successively been a postal relay, a monastery, a bed and breakfast and finally was bought by the actual owners to make it a family house.
Through the years the La Stella has been renovated in a quite contemporary way, which, at a first glance, does not fit the style of the house, but which makes it somehow interesting…
Dining room with large wood table and simple window curtains in light green color, Tuscan home decor ideas
The owners, wanted it to be classical and antique, whereas I had this deep feeling that the house needed something more. Something else, than what you would it expect to be!
Antique furniture and modern wall art for Tuscan home decorating
My biggest fear was to fall in the trap of "country-side cosiness", with rattan furniture and red Vichy napkins! Not that I don't like it, but the spirit of the house wasn't that. So, the tricky part of the work was to conciliate the classical views of the owners and my more avant-garde desires.
Bedroom decor for Tuscan home decorating, colorful floor rug and light decorative fabrics
The result is very interesting because it confirms that total look is not necessary (and not nice), and that, if done wisely, style and time mixing can be very pretty and timeless!!
Tuscan villa near Siena
In the living room, we have a antique desk, contemporary art, a vintage suitcase, Italian design sofa's, Indian fabrics, bright colors and Swedish design chairs, all living together.
Yellow-red Tuscan colors, bedroom decorating ideas
Tuscan home decorating ideas, simple Tuscan decor
Villa design and interior decorating details
Posted: 03.04.2012 by Decor4all