Tuscan homes look cozy, welcoming, relaxing and comfortable. Simple and elegant home decorating ideas, natural stone, stucco, terra cotta and plaster add an Old World flavor to Tuscan homes. Rustic Tuscan decor items give homes a lived in look. Traditional warm colors, golden yellow, deep orange and red tones, are nature inspired. Tuscan decorating style uses shades that remind fruits, turquoise water, bright sunshine, green olive trees and aged wine.
Tuscan decorating accessories, beautiful table runners, wall tapestry, drapery and soft cushions, may suggest colors that you can use for Tuscan interior design style, painting walls and selecting matching home furnishings. Ochre, olive, terra cotta, cinnamon, bronze, aqua, deep red and green are traditional Tuscan decorating colors.
Tuscan home decorating ideas include floral fabric patterns and unique tapestry designs. Small prints and natural fabrics, like cotton and silk, fridge, tassels and beads create beautiful and elegant Tuscan decorating style. All shades of golden color can be found in Tuscan home furnishings, floor and wall art. Burnt orange and rusty red tones are colors of traditional Tuscan colors for floor, wall decorations, kitchen cabinets and furniture. (Creative furniture decorating with fabric)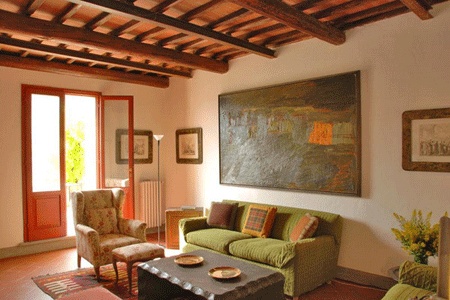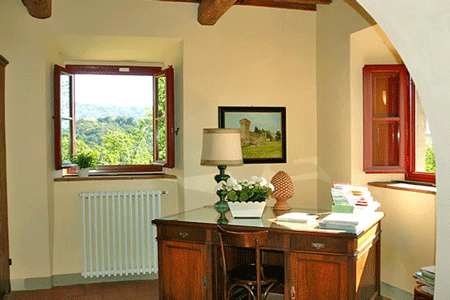 Dark red, sunflower yellow, cobalt blue and forest green color tones are used for creating charming ceramic art and dinnerware for Tuscan kitchens.
Traditional Tuscan furniture are simple, comfortable and elegant. Tuscan furniture pieces can be made of iron, rustic wood or fine wood. Copper and iron accents make formal and casual Tuscan furniture pieces look stylish and solid. Marble, and leather are traditional and luxurious Tuscan decorating materials that add charm to Tuscan furniture designs.
Comfortable and welcoming dining tables and chairs can be decorated with beautiful table linens in rich Tuscan colors, adding different texture and traditional designs theme to home decorating ideas, welcoming people to enjoy unforgettable dining experience.
Area rugs, table cloths and table runners add intrigue to dining room furniture, creating stylish table setting with Mediterranean style dinnerware.
High ceilings and wooden ceiling beams are a part of Tuscan homes. Wall tapestry and artwork decorate large wall surfaces. Wall tapestry add softness and beautiful colors to Tuscan home decorating ideas, including dining room, foyer and bedroom decorating. (Modern wall decoration ideas)
Tuscan home decorating ideas can be bold and sophisticated, or simple and elegant, expressing different accents of Tuscan decorating style.
High ceilings, wrought iron decorations, artistic lighting designs, beautiful fabrics and ceramic items, urns, vases and jars for food storage provide color, texture and theme for beautiful home decorating ideas. Inspired by nature, oversized vases and urns bring dramatic Tuscan decorating style into Italian homes.
Tuscan home decorating ideas:
Backyard ideas, Tuscan decorating style
Tuscan kitchens, inviting Tuscan kitchen decor
Posted: 30.06.2022 by Decor4all