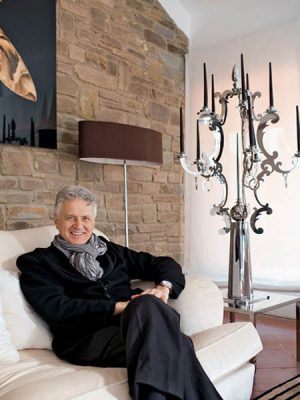 The Tuscan home where Luigi Cavalli lives and rests between business trips is located on a hill in Punta Ala, Tuscany. This beautiful Tuscan house is built of local stone, called Pietra di Scarlino, because it is mined in a small town Skarlino, not far from picturesque Punta Ala hills on the Mediterranean sea coast.
Tuscan home decor ideas often include natural stone, as building and decorative material. The stone is very beautiful, textured and unique material that defines Italian interior design style. 'We tried to save old stone walls,' – says the owner of the house.
Modern home interiors are fully furnished with brand items from IPE Cavalli, lighting, wall decorations, furniture and room decor accessories. Natural wood, ceramic and stone, light colors and striking artworks are just few takeaways from his home decorating ideas and interior design style that offer pleasant and elegant, comfortable and luxurious lifestyle.
Unique Sicilian homes, traditional Italian decorating style
Tuscan home decorating ideas, simple Tuscan decor
Natural stone for Tuscan home decor, Italian interior design and exterior decorating ideas from L. Cavalli
Modern Italian interior design style from Cavalli
Contemporary torchiere and unique table lamp, made of metal and glass emphasize simple, but artistic interior design style.
Gotic and contemporary home decor ideas, Neo Baroque, minimalist and traditional home decorating ideas in Italian style blend into the gorgeous fusion of styles, creating brigh and impressive, functional and modern interior design.
Tuscan home decor ideas from Italian designer, beautiful lighting fixtures made of metal and glass
In 1999, during a visit to China, Luigi Cavalli saw copies of his products in very expensive shops. 'They were imperfect copies, the lines were not smooth, the quality was much worse than original, but those things were very similar to ours. I realized that we must change, '- says Luigi Cavalli.
Italian style country home Casa Up
Mediterranean decorating ideas from Cyprus
Returning back home, he completely changed the philosophy of the brand. He decided not to sell individual items, but create lifestyle collections. This is the idea of brand Visionnaire IPE Cavalli.
Italian interior design style, modern living room furniture and home decor ideas from Cavalli
Legendary designer Roberto Lazzeroni was invited to work with Luigi Cavalli, polishing modern Italian interior design ideas for creating fabulous collections of furniture and home decor accessories for fully furnished bedrooms and living rooms.
Luxurious apartment ideas, interior decorating in Mediterranean style
Latest wallpapers from Italian Wall&Deco
Interior designers Samuele Mazza and Alessandro La Spada developed the collection Visionnaire. In the Middle Ages visionaries were people who communicated with the higher powers, and possessed the ability to see into the future.
Natural stone in Italian interior design, onix and golden butterfly, unique Tuscan home decor ideas from Cavalli
The collection was very successful and soon created the famous brand. 'It was unbelievable, crazy success. I'm not bragging. This is true. Now our stuff in more than 100 countries. All this happened in the last seven or eight years. I do not know any other furniture company, which in such a short time has achieved a similar success, '- says Luigi Cavalli.
Modern home decor ideas from Cavalli
ptotographs by I.Sorokin
Posted: 07.02.2012 by Decor4all