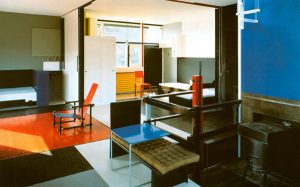 Famous chair designs by Gerrit Thomas Rietveld demonstrate unique furniture in De Stjil style or neoplasticism style. His iconic red-blue chair was created in 1918 – 1923, and looks impressive, interesting and bold today. Simple and elegant, innovative and bright, the red-blue chair is a retro furniture piece that is versatile and beautiful.
Furniture design in De Stijl style is a way to express a new utopian ideal of spiritual harmony and order. Designers advocated pure abstraction and universality by a reduction to the essentials of form and color in architecture and design, including furniture design.
They simplified visual compositions to the vertical and horizontal directions, and used only primary colors along with black and white.
Vintage furniture upholstery fabrics and painting ideas from Moissonnier
Fusion of contemporary minimalist and classic home decorating styles
Designer chairs in De Stijl style
Red-blue chair design by Gerrit Thomas Reitveld, De Stijl design style
Initially the artistic goal was to find new forms and a fresh combination of planes, lines and volumes, exploring innovative chair designs, created with simple and elegant elements. Until the end of the 1930s Rietveld experimented with various materials such as laminated wood and aluminum.
Using traditional and contemporary materials he created new, sometimes surprising and unique designer furniture pieces, including the legendary chair Zig-Zag Chair (1932).
Zig Zag chair, wood furniture in De Stijl design style
After 1945 Rietveld worked as an architect. He designed several famous buildings, including the Dutch Pavilion at the Venice Biennale.
Avant Garde style in interior decorating, stool Remida from Zanotta
Creative pouffles from Ainslie, unique upholstery fabric prints for poufs
Posted: 08.03.2012 by Decor4all