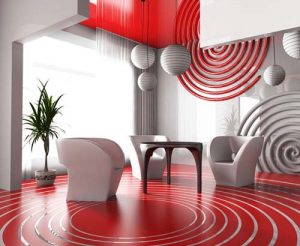 Techno style is a modern interior decorating style that celebrates contemporary technologies, new materials and innovations. Techno interior design style is about bright room decorating ideas popular in 1980s, cool atmosphere and elegant sleek lines, typical for contemporary interior decorating style.
Born in 1980s techno interior design and decorating style brought a fresh look at industrialization and technical progress, beloved by fans of constructivism. Quick development of new technologies and the way it influences everyday life changed modern interior design, bringing functional high tech room decorating ideas into modern homes.
Techno style is elegant and esthetically appealing.  The balance of artistic room decorating ideas and modern interior design solutions, inspired by contemporary technologies creates techno interior design style which is impressive, but not always practical. Geometric forms and light, visually disappearing interior design ideas, that bring glass and reflected light into room decorating, look intriguing and attractive at night with bright glass windows in metal frames.
Contemporary interior decorating ideas
Eclectic interior decorating style
Contemporary loft decorating ideas
Bold colors are combined with transparent materials and cool colors of glass, steel and aluminum, straight geometric lines of open roof beams, spiral stairs and rough wall surfaces of brick or stone make modern interior design in techno style feel complex and interesting, but cool and futuristic.
Interior design and decorating ideas and inspirations in techno style
All technological details and architectural elements, open pipes and cables become unique room decorating ideas that emphasize inspired by contemporary simplicity techno interior decorating ideas.
Techno interior design style materials
Techno interior design style calls for simple natural and contemporary room decorating materials, like glass, stone, brick, concrete, metal and plastic, that can be soften with light wood and wood materials. Man made fabrics in bold or neutral colors with abstract patterns or stylized designs add an artistic touch to room decorating ideas in techno style.
Interior decorating colors for techno style
Techno interior decorating style requires to use dark and light gray color shades, grayish white and light cool blue tones, dark brown and deep red colors, grayish orange tones and bluish green colors, metallic tones and latest bold and trendy interior decorating color hues that add stylish accents to room decorating ideas in techno style.
Modern interior design styles for room decorating
Country decorating style in gray, white, pink and red colors
Art Nouveau decorating style and room decor ideas
Charming Scandinavian interior style
Modern bathrooms in art deco style
The fusion of modern interior design styles and decorating ideas
Modern techno interior design style is a creative blend of minimalist contemporary interior design ideas and high tech appliances. Free of stereotypes, techno interior decorating style combines simple natural and contemporary room decorating materials, classic neutral and modern bold interior decorating color tones.
Fusion interior design style, beautiful room decorating ideas
Fusion of contemporary minimalist and classic interior decorating styles
Unique interior decorating ideas that add eclectic charm to home decor with beautifully crafted furniture and lighting fixture designs work well with simple ottomans without legs and plastic chairs that bring the elegance, functionality and spacious interior design, creating contemporary home interiors.
Posted: 15.05.2023 by Decor4all