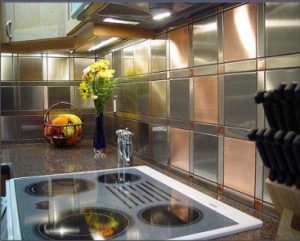 Modern kitchen backsplashes reflect latest interior trends and the development of new technologies that add new materials and allow to create exciting designs, blending the traditions with contemporary style. Kitchen backsplash designs become more decorative. Instead of designing just a functional, lacking any interest backdrop, you can add a gorgeous decorative accent to your modern kitchen interior and totally change the space.
Ceramic tiles are excellent traditional material for designing beautiful and unique kitchen backsplashes. They allow to create a smooth surface without the structured pattern. Also you can add hand painted accents to your wall tile designs, giving a unique look to your modern kitchen backsplash.
Ceramic tiles are easy to clean and available in many different colors, sizes and designs. Ceramic look harmoniously and attractive on traditional kitchen walls and in contemporary kitchen interiors.
Modern kitchen backsplash ideas
Glass mosaic tiles in green colors, modern kitchen backsplash ideas and trends
Modern kitchen backsplashes made with mosaic tiles
Mosaic tiles is a beautiful alternative to large wall tiles. Mosaic tile backsplashes look elegant and exclusive. Even monochromatic decorating color schemes create dramatic wall decor, bringing gorgeous materials, like glass and wood, stone and metal, into modern kitchen interiors.
Mosaic tiles are perfect for unique kitchen backsplash ideas and original designs. Intricate patterns and various colors make modern kitchen backsplashes made of mosaic tiles look like striking artworks and luxurious wall decorations.
Mosaic tiles used for creating unique kitchen backsplash design in art deco style
Laminated wall panels
Laminated wall panels add contemporary flavor to kitchen backsplash ideas, perfectly matching wood cabinets and dining furniture in textures and colors. Colorful wall panels or kitchen backsplashes in neutral colors create harmony with kitchen decor, emphasizing stainless steel accessories and appliances, glass doors and attractive tableware.
Contemporary bathroom decorating ideas, bright purple and pink mosaic wall tiles
White decorating ideas, modern kitchen decor in timeless style
Tuscan kitchens, inviting Tuscan kitchen decor
Wall panels are available in many colors and color shades. Heat, moisture and impact resistant, they inspire great contemporary kitchen backsplash ideas, creating smooth, easy to care for and beautiful surfaces and adding warm accents to modern kitchen decor.
Contemporary kitchen backsplash ideas, glass wall panels and nature inspired prints
Glass wall panels and nature inspired prints, contemporary kitchen backsplsah ideas
Glass kitchen backsplaches
Glass backsplashes are one of the latest kitchen design trends. Glass wall panels, combined with contemporary prints, create exclusive and impressive kitchen decor with gorgeous backsplashes. Clear glass or frosted glass patterns and unique prints dramatically transform modern kitchen interiors, creating pleasant visual illusions and bringing outdoor into kitchen decor.
Contemporary kitchen design trends in backsplashes, metal tiles for wall decorating
Metal tiles and stone kitchen backsplashes
Metal tiles, artificial or natural stones are the most expensive backsplash ideas, but some people believe their are worth the money. Made of natural stone countertops and backslashes create gorgeous kitchen interiors that make strong statements and beautify modern homes.

Posted: 29.08.2012 by Decor4all