Kitchen curtains are very important elements of house decoration. Modern kitchen curtains add beauty and comfort. Today people use kitchens not only for preparing meals and eating, but for studying, reading, watching TV, paying bills,  doing needlework and making crafts with kids. Kitchen curtains help create a perfect spot for a quick snack, a cup of coffee and conversation.
Wisely chosen, functional and creative window treatment ideas make kitchen decor cozy and relaxing. Simple kitchen curtains look elegant, highlighting window design. Without window coverings the space feels uncomfortable and cold. Modern kitchen curtains that are practical, eco friendly, easy to take care of, light and attractive are a part of contemporary inviting kitchen decor.
Traditional kitchen window treatments, made of light curtain fabric, provide privacy during the day, but light curtains can become almost transparent in the evening. Window blinds and shades, that are available in many colors, are functional elements that can be added to create pleasant and effective kitchen window treatments.
Window treatments, modern blinds for inclined roof windows
Sculptured contemporary rugs, floor decor ideas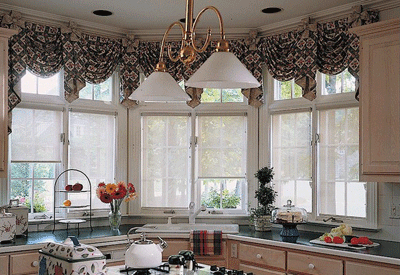 Opaque window blinds control the amount of sunlight, protecting furniture, decorative fabrics, kitchen accessories, wall paint and wallpaper. Also modern window coverings help insulate home interiors in winter and summer.
Smart window treatment ideas include contemporary window shades, eco friendly bamboo or wood blinds and create the energy efficient and money saving combination with light kitchen curtains.
Window treatments designs for kids bathroom
Kitchen curtains
Kitchen curtains should be practical and made of washable fabrics. Light curtain fabric allows good air circulation. Window shades, shutters or blinds in a combination with airy kitchen curtains offer an ideal solution, functional and attractive window treatment ideas for decorating.
| | |
| --- | --- |
| Kitchen window decorating ideas, white-yellow curtain panels with rooster | Kitchen decorating ideas, window curtains, roman shades |
Kitchen curtains in warm colors look great in kitchens located in the northern part of the house. Orange, golden, yellow, light brown or red kitchen curtains feel cheerful, cozy and inviting.
Purple, lilac, blue and green color shades can be used for a kitchen window facing south. Window treatments in muted tones feel cooling and relaxing with bright sunlight.
| | |
| --- | --- |
| Purple kitchen window shades, cool colors for sunny kitchen window | |
Roman shades and kitchen curtains, decorated with ribbons, lace or crystals, are popular modern trend for window treatment ideas. Roman shades are practical and functional decorating items that create elegant contemporary window design. Roman shades look great in all home interiors, and especially helpful for decorating vertically inclined windows.
| | |
| --- | --- |
| Modern kitchen decorating ideas, bamboo shades and lambrequins window curtains | |
Kitchen window curtains with a lambrequin and a trimming, applied to the inside edge, that adds both weigh and definition to kitchen window treatments, are perfect for decorating narrow or small windows. Attached to the ceiling kitchen window treatments with lambrequins visually lift the ceiling and increase the interior's size.
| | |
| --- | --- |
| Lambrequins curtain, red-yellow kitchen decorating ideas | |
Roller blinds, made of synthetic fabrics and coated with anti-dust agents offer simple neutral window treatment ideas for kitchen interiors. Roller blinds do not create coziness, but provide a functional element for creative kitchen window treatment design.
Modern curtains length
Long or short curtains, made of sheer, semi-transparent fabrics, tulle or lace, are modern decor trends. Airy and light kitchen window treatments are stylish choices for  all seasons window decorating.
| | |
| --- | --- |
| Kitchen window coverings, short and long window panels | |
The length of modern curtains can vary. Window curtains that are just below a window sill visually make  kitchen window wider and kitchen interior larger. If there is no furniture in front of a window, long kitchen curtains help increase the ceiling height. Short curtain panels look better with furniture pieces near the window and wallpaper.
Window curtains and fabric design
Selecting decorative fabrics for kitchen curtains is an important element of window treatment design and interior decorating. Kitchen curtains with large pattern details or geometric designs visually reduce kitchen interior size. Small designs help create more spacious interior.
Multicolored paint decorating and colorful wallpaper require kitchen curtains in solid colors that match walls color scheme.
Beautiful wallpapers, romantic vintage wallpaper patterns
| | |
| --- | --- |
| Creative kitchen window coverings, solid color kitchen curtains fabric | |
Carefully chosen kitchen window coverings and window curtains fabric help design spacious, functional, attractive and inviting kitchen decor. Right length of kitchen curtains visually balances  interior proportions and increase the ceiling height to emphasize beautiful kitchen decor.
Modern kitchen decor colors:
Decor trends from Christmasworld
7 purple-pink interior color schemes for spring decorating
| | |
| --- | --- |
| Floral kitchen interior decorating ideas | |
Posted: 31.10.2012 by Decor4all