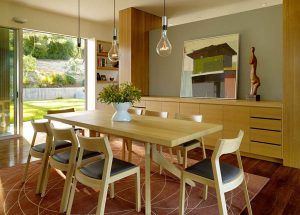 The Los Altos Hills Residence architectural and interior decorating project is a completed in 2008 work of Californian studio CCS Architecture. Two story contemporary house for a family of five is located in Los Altos Hills, California, providing beautiful, comfortable and modern home for two working parents and their kids.
Warm and casual, spacious and family-friendly contemporary house design and modern interior decorating in eco style merge rooms with outdoors, offering great inspirations for nature inspired, eco friendly and spacious interior decorating ideas for your home.
Natural materials, comfortable brown colors of wood and light wall painting ideas, neutral color combination and well designed storage are peaceful and relaxing interior decorating ideas, spiced up with unique contemporary artworks and bright furniture pieces.
Top 5 modern interior trends for home decorating
Nature inspired contemporary house design
Two story modern house design with a swimming pool in Los Altos Hills, California
Here are top takeaways from this attractive project, explained by architects from the design studio CCS Architecture, www.ccs-architecture.com/v3/ based in San Francisco.
Carefully positioned on its one-acre site, the 6,000 square foot residence is broken into three parts separated by two breezeways. The result is a contemporary compound with well-defined outdoor spaces that are comfortable during hot summer days. An L-shaped main level plan houses the primary living areas and garage.
Modern interior decorating in eco style
Wooden dining furniture, simple floor rug, contemporary lighting and artwork for wall decoration, modern interior decorating ideas
The second floor bedroom wing, clad in cedar, is a long bar that is rotated in relation to the first floor. It creates sheltered zones below as well as a pair of roof decks for the four bedrooms.
Modern wallpaper with leaves, beautiful eco style decor
Light interior decorating ideas, country style decor for summer house
The second floor meets the ground at its north end, forming the pool house. Between the pool house and the family room, a breezeway frames a view of the property and Silicon Valley.
White wall paint and wood floor create attractive, nature inspired, contrasting color combination for interior decorating
The open floor plan maximizes connections to outdoor living spaces with large glass sliding doors aligned on each side of most rooms. This main living space is a series of rooms that flow together in a linear fashion. The light-filled interior is composed of white painted walls, wood walls, hardwood floors, stainless steel, glass, and painted cabinetry.
Simple and elegant bedroom decor, wooden furniture, white and light gray room colors, comfortable and modern interior decorating ideas
The main outdoor space is to the west of the home and has a "floorscape" of lawns, low plantings, integral color concrete, and the pool. A curved retaining wall borders the west side of the yard, and a field of grasses and olive trees rises above it. The other sides of the property are planted with apricot, California pepper, citrus and olive trees, creating privacy, and tying the property to the agricultural history of Los Altos Hills.
Modern bathroom decorating in eco style, nature inspired brown-green color combination
Decorating small spaces, Melbourne apartment ideas from Carr Design Group
A 4-kilowatt photovoltaic solar array on the roof generates about half of the home's electricity, with additional solar panels that heat all of its water. The roof itself is made of structurally insulated panels (SIPs). Windows are all dual glazed with high-performance glazing. An electric, high efficiency split-system heat pump provides heating and cooling. Sunshades over windows and doors temper the sunlight and decrease heat gain in the summer.

Photographs by Mathew Millman
Posted: 27.01.2012 by Decor4all