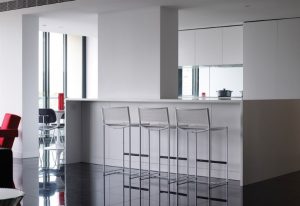 Contemporary apartment ideas from Carr Design Group are elegant and simple. Contemporary interior decor style offers flowing interior design, neutral decorating colors, that include black, white, gray and cream tones, combined with striking bright accents that make contemporary interior design more exciting and dynamic.
Melbourne Apartment Ideas are one of the best projects 2011 that got Residential Design Award. Functional and simple, apartment decorating ideas from Carr Design Group are excellent inspirations for decorating small spaces.
Attractive and exclusive apartment is located on the 13th floor of West Tower, providing a beautiful view and comfortable interior decor that reflect and symbolize the concept of fluidity of open small spaces.
Elegant interior decorating ideas, light and dark color combination
Workshop interior trend and decorating color combination
Contemporary kitchen design, white furniture and light decorating ideas for small spaces
Contemporary apartment ideas include large windows and comfortable home furnishings, glass furniture and strong color contrasts, created by light wall paint colors, bright lighting fixtures and dark furniture pieces.
Luxurious materials, designer lighting fixtures, furniture and room decor accessories are exclusive apartment ideas that make small spaces attractive and desirable.
Decorating small spaces in contemporary style, living room design
Polished granite and black glossy surfaces, bright red chairs and mirrors in bronze frames bring attractive contrasts and add chic to contemporary interior decor style, creating inviting and stylish apartment for modern lifestyle.
Techno interior decor style, contemporary decorating ideas
Fusion of sontemporary minimalist and classic home decor styles
Posted: 27.01.2012 by Decor4all