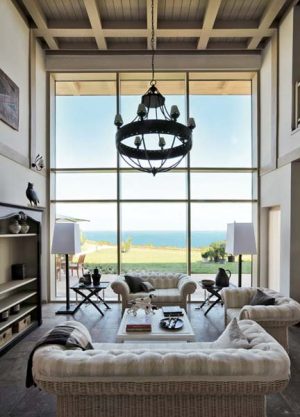 Light room decorating ideas and comfortable summer house design from Russian architects are interesting, charming and pleasant. The blend of old European traditions, modern architecture and room decorating ideas, antique and contemporary room decor accessories creates a beautiful summer house on Bulgarian coast.
The new two story summer house looks harmonious with local homes, offering functional and modern home interiors and contemporary level of comfort.
Coastal view, light room decorating ideas and functional layout make the simmer house design pleasant and bright. Simple and elegant room decor emphasize the coastal vistas beauty, making outdoor living spaces a focal point of summer house design.
4 cream-brown color schemes, room decorating ideas
White living room furniture, contemporary floor lamps and and antique chandelier, country style decorating ideas
Inspired by country style decorating ideas make the summer house feel warm and casual. Natural materials, painted wood and marble, upholstery fabrics, made of natural fibers and unique room decor accessories create charming atmosphere of coastal living.
Luxurious country style decorating ideas reflect ethnic decor, bringing local traditions and south Earopean flavor into modern interior design. Stone and wood are great natural materials for building comfortable summer house and elegant eco friendly interior decorating.
White coffee table with antique room decor accessories
Beautiful large window and light interior decorating color palette, soft furniture upholstery fabrics, made of natural fiber, antique chandelier and stylish floor lamps, wood and rattan create gorgeous living room decor.
Elegant interior decorating ideas, light and dark color combination
Modern interior decorating ideas, inspired by Californian coast beauty
Informal and light, country style decorating ideas are combined with antique items and artworks, adding style and chic to living room decor.
Country style decorating ideas, white bedroom decor accessories
Wood dining furniture, dark upholstery fabric and light cream window curtains, traditional dark floor tiles and contemporary white ceiling light create attractive blend of modern interior decorating ideas and offer welcoming and stylish dining room decor.
Country decorating with gray, white and pink-red colors
French country home decorating ideas from Provence
White kitchen cabinets give a fresh feel to kitchen design. White bedroom decor accessories create beautiful constrasts with dark walls, offering peaceful and tranquil, charming contry bedroom decorating ideas.
Summer house in Bulgaria, is a project from Russian architects Phillip Ushin and Nina Prudnikova.
Posted: 24.12.2011 by Decor4all