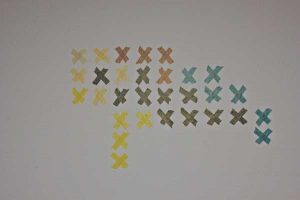 Cross stitch patterns in bright colors can be quickly made with Washi tapes. This fun material and interesting wall decorating ideas allow to create temporary accents on empty walls, beautifying your interior decor. Painter tapes in various colors work well also for these wonderfully simple and creative diy projects.
Washi tapes are great for creating star, flower and striped designs on empty walls, furniture and decor accessories. Cross stitches are one of the easiest ways to decorate a wall with colorful Washi tapes.
Painting cross stitches on empty walls is another great wall decorating idea and a nice way to add bright colors and stylish cross stitch patterns to your empty walls, creating personalized and crafty room decor.
Wall decorating with cross stitch patterns
Bedroom wall decorating with colorful cross stich pattern
Cross stitches are a fantastic pattern that blends the elegant simplicity and rainbow of colors. Try to buy painter tapes in many different color shades for creating an amazing cross stitch pattern on your wall and give depth and big personality to your room decor.
Cross stitched wood, 8 unique home decorating ideas and crafts
Modern wall decorating ideas, lace fabric and dolly patterns
Painting cross stitches on empty walls
Bird image created with cross stitch pattern, original wall painting ideas
Bedroom wall decorating with paint and cross stitch pattern, unique diy idea
Modern wall decorating ideas
Bird image for wall decoration, modern wallpaper, stickers and painting ideas
10 modern simple wall decoration ideas with fabric
Posted: 03.09.2012 by Decor4all