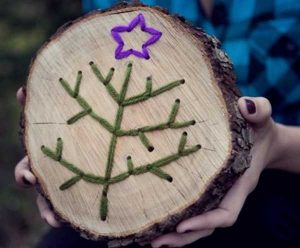 Cross stitched wood is an interesting trend that shows the beauty of colorful stitches on wood furniture, wall decorations, doors and wooden accessories. Cross stitched look especially gorgeous on reclaimed barn wood pieces, marrying the warmth and unique texture of natural material with youthful feel of bright colors.
Small wall decorations made with wood and colorful ropes or yarns make fantastic gifts and offer exciting craft ideas for all who appreciate the simplicity and elegance of cross stitching. Here is a Christmas craft idea for making the unusual gift with cross stitches and wood. A Christmas tree on wood looks fantastic, creating an excellent gift or home decorations that will surprise and delight your family and guests.
This design is original and beautiful, perfect for eco-friendly holiday season. You need to drill holes and then enjoy stitches that slowly create the beautiful Christmas tree.
Cross stitches on wood furniture and wooden home decorations
Cross Stitched Wood Chair by Penelope Ann Ramos is also amazing. This design demonstrates a fabric created from wood. The chair is made up of wooden slats which are then sewn together with a cross stitch pattern. The wooden slats are perfectly draped over the frame of the seat achieving a soft yet sturdy design.
Cross Stitch Monogrammed Coptic Stitch Balsa Wood Mini Book makes an excellent personalized gift. You can decorate a photo album in the similar style or come up with your ideas for making cross stitching cooperate with wood.
Lots of stitches create a gorgeous set of a coffee table and a serving tray. These fantastic designs can be your next DIY project.
The x-table from Reddish Studio is a fabulous combination of materials, shapes, and traditions. A wooden table has been drilled with a bunch of neat little holes. The holes then serve as Aida cloth, accepting colorful wool threads in a predetermined pattern.
Isn't it a great DIY project and craft idea? Start from scratch, constructing a table of your own, or revamp an old furniture item, or give an artistic touch to a simple, cheap table you can buy on a yard sale.
Stitched Table created by Bill Hilgendorf and Jason Horvath of Uhuru Design features pieces of walnut wood split into two parts. The boards are artistically held together by four X-shaped stitches. These white cross stitches stand out against the dark color of the walnut wood, creating a stunning table top which is waiting for a perfect base.
An old door or gates, wood wall panels, and shelves can be creatively decorated with colorful cross stitches, offering unusual and exciting, stylish and cheap home decorations and gifts.
Posted: 15.09.2017 by Decor4all